<
Sure Seal Latex Primer Sealer
Sure Seal ™ Latex Primer offers strong adhesion for all surfaces and excellent stain blocking and resistance in a low VOC formula.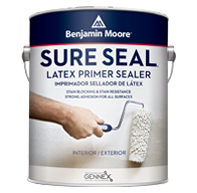 Sure Seal Latex Primer Sealer
Primer
(027)
Excellent stain blocking and sealing
Strong adhesion
Low VOC (<50 g/l)
Fast dry to touch - under an hour
Mildew resistant coating
MPI Rating #6, #39 and #137
Engineered with Gennex® Color Technology
View the sell sheet for more information
Recommended for:
Designed for a wide range of interior and exterior projects.
Available Colors: White (Can add up to 2 fl.oz of Benjamin Moore Gennex® or CP colorant per gallon)
Sheen (or Gloss): Primer
Cleanup: Soap and Water
Resin Type: 100% Acrylic Latex
Recommended Use: Interior, Exterior
MPI Rating: 6,39,137
VOC Level: 48.0

Nylon/Polyester Professional Brushes
As the result of extensive testing, Benjamin Moore nylon/polyester professional paintbrushes are custom-blended to deliver the highest levels of performance with Benjamin Moore paints. They have just-right flex and taper for even coverage. Exceptional paint capacity provides the fastest results.

High Capacity Professional Roller Covers
With dense, golden yellow fabric that resists matting for complete coverage and minimal spattering, Benjamin Moore high capacity roller covers provide superior performance. They have outstanding paint-holding capacity for time-saving production with all flat paints and stains.