Careers at Benjamin Moore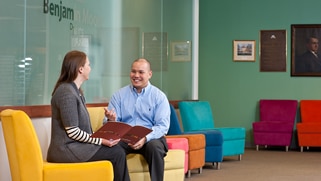 Benjamin Moore Opportunities
Drive… Focus… Determination
Are these characteristics that define you? If so, you may be the right person to join our team of industry-leading professionals. Benjamin Moore seeks talented people looking for an opportunity to work in a dynamic environment where new ideas are always welcome. Our organization offers a collaborative setting where your contributions are both invited and valued. We maintain the strongest brand in our industry and invite you to come join us. Learn more about our current employment openings by clicking on the link below.
Benjamin Moore Employees—The People Who Drive Our Success
For well over a century, Benjamin Moore has striven for unparalleled excellence in our products and in the way we conduct business. Throughout our history and today, our people are what help us stand apart from the rest. They are dedicated, hard-working individuals who aspire to lead, to invent, to change… to be the best. We expect those who join our team to share our vision and principles of Integrity, Intelligence and Industry.
We seek to ensure that our employees are recruited, hired, assigned and promoted without regard to race, color, age, religion, national origin, citizenship, veteran status, gender, disability or any other attribute protected by federal, state or local laws.