<
Lenmar® Homeowner Wood Finishes
Waterborne Stains for interior use on trim, furniture, doors, and cabinets. Not recommended for floors.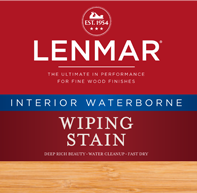 Waterborne Interior Wiping Wood Stain

(1WB.1300)
Lenmar® Interior Waterborne Wiping Stain is a high-quality, water-based wood stain that has good open time and is available in a wide range of colors. It can be top coated with water-based and solvent-based clear finishes.
Waterborne alkyd technology
Good open time of 5-10 minutes
Easy application for all types of wood surfaces
Soap and water clean-up
Available Colours: Tint bases available for all colors
Sheen (or Gloss): N/A
Cleanup: Soap and Water
Resin Type: Waterborne Alkyd
Recommended Use: Interior
MPI Rating: 186
VOC Level: 236.7