Benjamin Moore Introduces Aura Grand Entrance
Create the most luxurious first impression with the ultimate coating for front doors and trim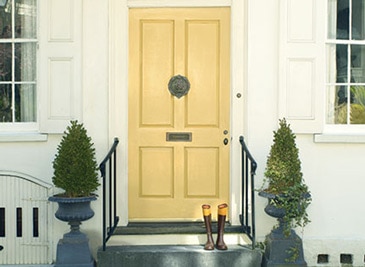 DOOR: English Scone, Aura Grand Entrance, High Gloss
TRIM: Frostbite, Aura Grand Entrance, Satin
(Toronto, ON) May 20, 2015 – Benjamin Moore, North America's favorite paint, colour and coatings brand, is proud to unveil Aura® Grand Entrance – a new enamel for doors and trim. Inspired by fine European enamel finishes, Aura Grand Entrance is available in thousands of beautiful Benjamin Moore colours, as well as a curated palette of 42 colours, the most popular for a home's front door, regardless of the architectural style.
Aura Grand Entrance offers a rich, lustrous finish and outstanding durability. Intended for interior and exterior usage, it is available in High Gloss and Satin sheens. With a lifetime limited warranty, Aura Grand Entrance is a waterborne alkyd enamel paint that dries to a smooth, hard finish that's as durable as it is beautiful.
"This newest product offering is guaranteed to impress anyone who might come knocking on your door," says Benjamin Moore Colour & Design Expert Sharon Grech. "Aura Grand Entrance will add a touch of elegance to your house and amp up your curb appeal, while providing rich colour and protection to a key focal point of your home."
Exclusive Aura Grand Entrance Colours Include:
| | |
| --- | --- |
| Camellia Cream | Hyde Park Green |
| Frostbite | Crete Countryside |
| Edinburgh Castle | Riverbed Brown |
| Bavarian Alps | Café Terrace |
| Plantation White | Blackened Moss |
| Cocoa Bean | Tavern Door |
| Impressionist Ruby | Ascot Gray |
| Dutch Tulip | Venetian Sky |
| Scottish Shortbread | Amalfi Coast |
| Piazza San Marco | Graphite Shadow |
| Viennese Café | Silver Medallion |
| Tuscan Chianti | Matisse Blue |
| Winter Palace | Wild Blueberry |
| Mint Chip | Notting Hill Blue |
| Morning Fog | Port of Call |
| English Scone | 10 Downing Street |
Aura Grand Entrance is an exceptionally high performance paint that provides incredible coverage and colour, and is low VOC with low odour.
Aura Grand Entrance will be available at Benjamin Moore retailer locations across Canada beginning in late May. The paint comes in quart sizes – just enough to finish your door and framing – and will retail for approximately $46.99 CAD.
About Benjamin Moore & Co.
Benjamin Moore & Co., a Berkshire Hathaway company, was founded in 1883. One of North America's leading manufacturers of premium quality residential, commercial and industrial maintenance coatings, Benjamin Moore maintains a relentless commitment to sustainable manufacturing practices and continues to develop the most eco-responsible formulations possible. In 2012, the company's Natura paint received the Green Good Housekeeping Seal, acknowledging its high degree of sustainability plus rigorously tested performance. Other superior products in the Benjamin Moore Green Promise® portfolio include Aura, Regal Select, ben® and Ultra Spec® 500 paint for commercial interiors — all built upon our patented Gennex® platform that has changed the industry and earned the passion and loyalty of homeowners and professional painters by delivering extremely low-VOC and peerless beauty and performance. J.D. Power and Associates 2014 Interior Paint Satisfaction Study ranked Benjamin Moore highest in consumer satisfaction, marking the fourth consecutive year and fifth time the company has earned this rating. Benjamin Moore paints deliver authentic Benjamin Moore colors and are available exclusively from Benjamin Moore's network of paint and decorating dealers.
For additional information, hi-res images or request an interview with a representative from Benjamin Moore, please contact Christine Testa at Strategic Objectives: Christine.Testa@strategicobjectives.com, 416.366.7735 x283