Black Artists + Designers Guild Debuts Blackouflage to Design Miami
A range of rich Benjamin Moore hues were selected by artists Leyden Lewis and Danielle Fennoy for use in the team's exclusive concept. Dubbed Blackouflage, the installation offered creativity and conversation as part of the VIP Collectors Lounge during Miami's premiere art and design show. Benjamin Moore was the paint partner for the project.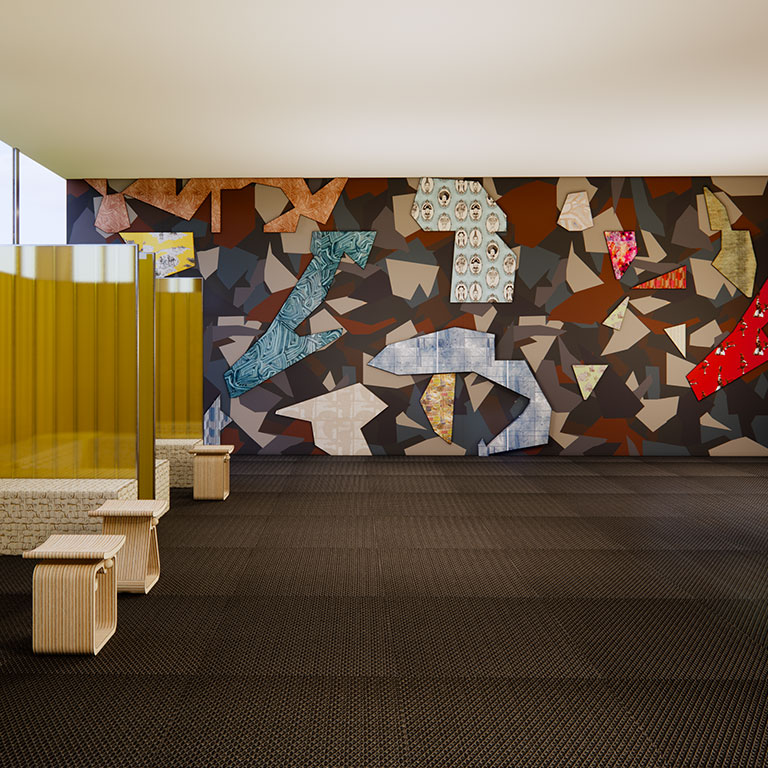 Acclaimed designers Leyden Lewis and Danielle Fennoy, both members of the Black Artists + Designers Guild (BADG), curated a stunning palette for an exciting new space: The VIP Collectors Lounge at Design Miami that occurred from November 30-December 5, 2021.

The designer statement for the exclusive BADG-created concept describes the intent:
"Blackouflage" visualizes the preconceived homogeneity of Black identity—seen + unseen—and constructs creative space for the further expansion of individual Black expression.

Black identity is inherently multi-dimensional—fluid, varied, and complex. It is as subtle as the myriad shades of black hue that exist in the world. Not one black but many, and within each shade of black—depth, variation, richness. Therefore, we created an environment to foster conversations on how space-making can form the foundation for Black creatives to maintain physical, social, emotional, and creative well-being.
The VIP Collectors Lounge was more than just a place for the art and design crowds to find respite, it provided a space that encouraged real connection and meaningful conversation.

Aesthetically, "Blackouflage" shared artistic, Afrocentric perspectives but also served a social purpose: encouraging community, connection, and conversations that further reveal the multi-dimensionality of Black identity and creativity.

The Benjamin Moore paint color palette chosen for the VIP Collectors Lounge consisted of seven gorgeous Benjamin Moore hues hand-selected by Lewis and Fennoy, both Brooklyn-based creators with their own thriving architecture and design studios.
---
The Blackouflage Color Palette
Experience the paint colors of Blackouflage, a rich palette curated by Leyden Lewis and Danielle Fennoy of The Black Artists + Designers Guild.
---