Research, Innovation & Quality
Benjamin Moore has eight research and development laboratories at our 80,000 square-foot facility in Flanders, NJ. At this research and development hub, more than 100 chemists, chemical engineers, technicians and support staff develop new products and ensure our formulations remain best-in-class. Each lab focuses on a different area of expertise, from evaluating color standards to enhancing high-performance coatings designed specifically for industrial facilities.

We continually test and improve our products, while researching and developing new coatings to meet the evolving needs of our customers. Many Benjamin Moore paints within various product lines are zero or low VOC, including Aura®, Regal® Select, ben®, Eco Spec® WB, and Ultra Spec® 500, among others. A majority of our architectural coating formulations range from 0-100 grams per liter (g/L) VOC, compared to previous formulations ranging from 100-250 g/L VOC.

Our commitment to research and innovation has resulted in many industry firsts, including the first eggshell interior finish, the first Computer Color Matching System (now an industry standard) and the first in the U.S. to introduce a zero (VOC) waterborne tinting system to the marketplace: our patented Gennex® Color Technology.

Benjamin Moore Gennex® Color Technology provides one-of-its-kind color to our products. Our team recognized if we made our own colorants, designed specifically for our paints, we could remove unnecessary chemicals that weaken paint—creating a formula that's better, stronger and simpler.
BENJAMIN MOORE PATENTS
| | |
| --- | --- |
| United States | 46 |
| International | 100+ |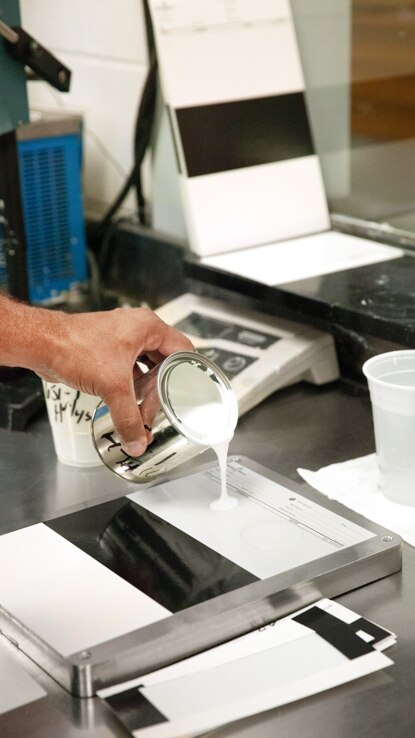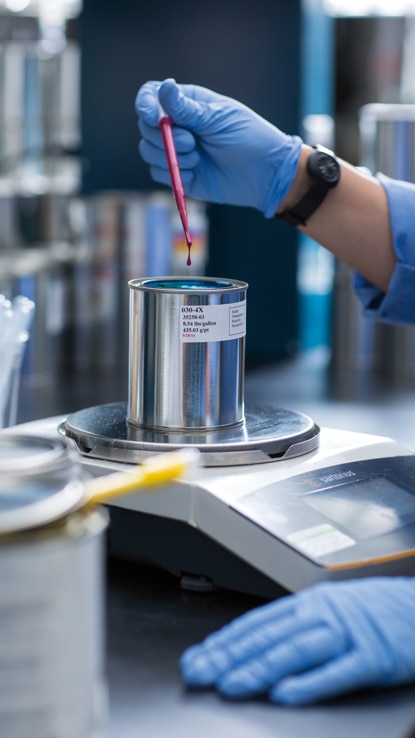 Product Stewardship
Third Party Certifications
In addition to Benjamin Moore's efforts to reduce VOC emissions, certifying select products to third-party standards is a cornerstone of our commitment to product stewardship.
Certifications Include:
Eco Spec® WB Interior Latex (primer and all finishes)
Eco Spec® WB Interior Latex (primer and all finishes)

Ultra Spec® 500 Interior Latex (all finishes)
Ultra Spec® EXT (Flat (N447/K447); Satin (N448/KK448); Gloss (N449/K449))
Ultra Spec® HP D.T.M. Acrylic (all finishes)

Applicable to most Benjamin Moore interior paints (please refer to the technical data sheet of each product for how our products qualify under various LEED® v4.1 categories; the following are examples for the low emitting category)

Aura® Waterborne Interior Paint (all finishes)
Aura® Bath & Spa Waterborne Interior Paint
Regal® Select Interior Paint & Primer (all finishes)
ben® Interior Latex Paint & Primer (all finishes)
Eco Spec® WB Interior Latex (primer and all finishes)
Ultra Spec® 500 Interior Latex (primer and all finishes)

Sure Seal® Latex Primer Sealer
Ultra Spec HP® Acrylic Metal Primer HP04
Ultra Spec® 500 Interior Latex (primer and all finishes)
Ultra Spec® Exterior Flat Finish N447
Ultra Spec® Exterior Satin Finish N448
Ultra Spec® Exterior Gloss Finish N449

Master Painters Institute (MPI) Green Performance® Standard

Applicable to various Benjamin Moore products

(please refer to technical data sheets or the Master Painters Institute website for details)
Commitment to Responsible Sourcing
Throughout our supply chain, Benjamin Moore is committed to responsible sourcing. We continuously seek opportunities to improve our procurement procedures and track spending with minority, women, small disadvantaged, veteran, service-disabled and LGBTQIA+ owned businesses. We are committed to providing opportunities for these vendors to actively engage with Benjamin Moore.
Vendor Qualification and Auditing
Benjamin Moore maintains a robust vendor auditing program focused on financial stability, supply risk, reputation, safety, quality and corporate social responsibility. All vendors receive an initial audit before first use, and then are selected for periodic audit based on a risk analysis that encompasses these criteria, among others.

Audit findings are reviewed with the vendor at a close out meeting. Areas for improvement are noted, and if necessary, a corrective action plan is put into place with the supplier. Plans are reviewed at least quarterly until corrective actions are complete. If an audit finding is high risk and cannot be corrected to Benjamin Moore's satisfaction, we will begin the process to move that business to a new supplier, or put preventive actions in place to mitigate risk.
Conflict Minerals
We also comply with Berkshire's Conflict Mineral Policy Statement. The policy statement commits Berkshire and its subsidiaries to comply with the Conflict Minerals Rule issued by the U.S. Securities and Exchange Commission and work with our suppliers to ensure the responsible sourcing of materials containing "conflict minerals"—the ores of tin, tantalum, tungsten and gold.
Sustainable Packaging
As a best practice, our teams are always researching alternative packaging to deliver our products in more sustainable cans, cartons and wrapping. Our primary packaging consists of up to 100% recycled content and our secondary packaging contains an average of 75% recycled content. As part of these ongoing efforts, in 2020, we introduced 100% recyclable plastic quart sized containers for our Gennex® and Color Preview® colorant. Additionally, all products packaged in gallon containers at our Newark, NJ, manufacturing location are made with 100% post-consumer materials.
PaintCare®
We are committed to finding ways to improve management of unused paint by our customers. As such, we partner with the American Coatings Associateion (ACA) and the Canadian Paint and Coatings Association (CPCA).

The ACA's nonprofit organization PaintCare manages an industry-wide program to collect leftover paint for reuse, recycling or safe disposal. PaintCare operates in states with paint stewardship laws. Product Care manages product stewardship programs for household hazardous and special waste products on behalf of its members across Canada. As a contributing board member for both PaintCare and Product Care, we share the goal of expending the breadth of these models so that all post-consumer paint is handled effectively and in an environmentally responsible manner.

Click here to learn how to properly dispose of unused paint.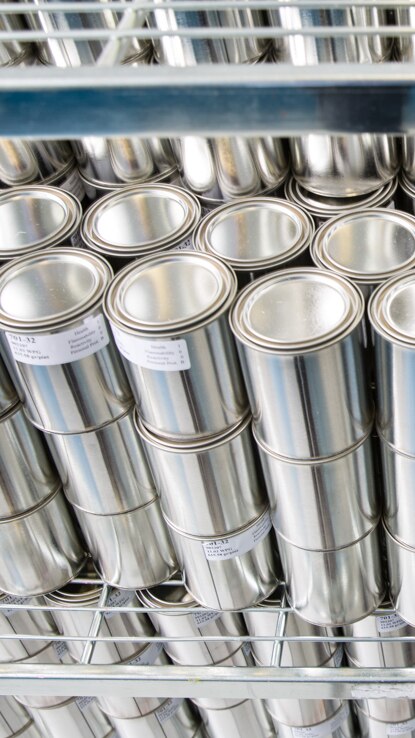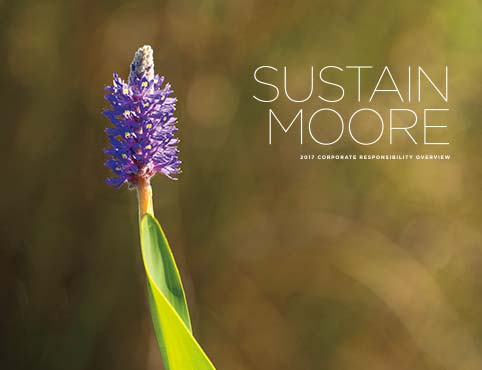 Corporate Responsibility Overview Archive
2016, 2017 and 2019 reports available for download.
LEARN MORE