When you are ready for a repaint, our tips for painting walls can help you transform your entire space.
Are you ready to learn how to paint walls ? With the right tools and the right paint, you'll go from painting for beginners to proud DIY-er in no time. The best paints for interior walls will cover properly prepared surfaces in fewer coats, but beware of bargain paints claiming good coverage at too-good-to-be-true prices. Benjamin Moore premium products are powered by patented Gennex® Color Technology, ensuring you'll enjoy gorgeous paint colors and unsurpassed durability every time.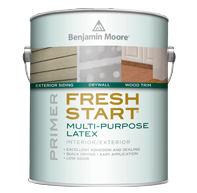 Fresh Start® Premium Interior Primers
A complete line of interior premium primers deliver the exceptional adhesion and holdout required for a smooth and durable topcoat.
LEARN MORE