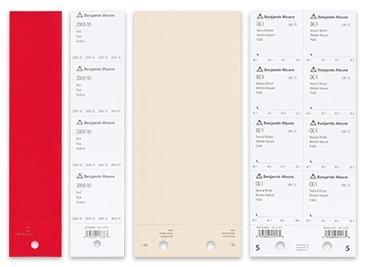 Streamline and simplify paint specification with the help of Benjamin Moore Paint Color Sheets.
Complimentary for design professionals, these essential paint color sheets are...
EASY-TO-ACCESS
When ordering, you can search our database—which includes all of our Color Collections—by color name or color number.
TRACKABLE
Access your order and see shipping status in real-time.
FLEXIBLE
Choose from three different sizes that synchronize with Benjamin Moore's new designer kits and reference sets.
Size Up
Designed for uniformity and seamless integration, our new Paint Color Sheet sizes include:
2 X 9.25 Integrates with the NEW Benjamin Moore Designer Kit
4 X 9.25 Integrates with the NEW Professional Reference Set (coming soon)
8 X 9.25 Our largest size, this new size will replace former 8"x8" sizes
Our updated system includes a new ordering link. Please be sure to update any of your materials with it: https://store.orderfront.com/BenjaminMooreUS/

ORDER PAINT COLOR SHEETS
Please note...
Be sure to update your materials with our new ordering link: https://store.orderfront.com/BenjaminMooreUS/
We will continue to offer some of the previous sizes you are familiar with (e.g. 4" x 4" and 8" x 8", etc.), however they will be phased out and replaced with the three options noted above.
As of November 13, 2017, we will no longer offer paint color sheets with custom holes.