All light, especially natural light, impacts how paint colour appears on a wall—and ultimately, how paint colour looks in a room. Here, we share the best paint colours for rooms that get natural light from the north, known as 'northern exposure.'
The amount of light that comes in from each direction—be it north, south, east or west—has a powerful effect on a paint colour's intensity and cast. Here are some common characteristics of northern light:
A north-facing room tends to get consistent light throughout the day.
The natural light in a room with northern exposure can be muted and toned down.
Cool, blue-gray tones are common for a room with northern exposure.
How can you balance some of the qualities of northern light? Choose a paint colour with the right amount of warm and cool undertones, and consider the brightness of the paint colour.

Let's look at solutions from our most popular colour families when it comes to north-facing rooms: White, gray and neutral paint colours. Given that these paint colours are so subtle, natural light has the greatest impact on how each one appears in a space.
White Paint Colours for North-Facing Rooms: Top Picks
Counterbalance the cast of cool northern exposure with a clean, fresh white paint that has a hint of yellow. These three are all go-to white paint colours that provide varying levels of warmth, depending on how cool (or blue) the lighting in your north-facing space is.
Gray Paint Colours for North-Facing Rooms: Top Picks
We get asked what our 'perfect gray' or 'true gray' is a lot. Our answer? It depends on lighting. We selected the below gray paint colours because of their warm undertones. Each one softens the crisp nature of northern light. And while north-facing rooms may be a bit darker than southern exposure, we love leaning into the moody ambiance of northern lighting with these three varying shades of gray.
Neutral Paint Colours for North-Facing Rooms: Top Picks
The muted natural lighting of a north-facing space holds great appeal for many. These neutral paint colours provide soft yellow undertones that tone down the coolness of a north-facing room. Hints of golden earth and soft sand add a grounded sensibility and overall warm ambiance.
North-Facing Rooms: Consider the Season
Natural lighting conditions, like nature itself, are powerful.

Influencers include where you live—think woodsy versus coastal versus desert environments. And clearly, natural lighting changes throughout the day, which also influences how paint colours appear on a wall.

Seasons can make a particularly big impact on how paint colour appears in a north-facing room. Consider:
Winter yields natural light that tends to be cooler and sharper than natural light during the summer.
Summertime lighting can evoke a warmer cast than winter lighting, from the same exact paint colour.
Shadows falling on the wall of an already dusky room can appear even darker. Consider painting a shadowed wall a vibrant colour. We always love Hawthorne Yellow HC-4, Palladian Blue HC-144 and the warm, terracotta of Potters Clay CC-360 for accent walls in darker spaces.
For trim and ceiling paint colours for your north-facing room, consider White Dove OC-17. This fresh white paint colour works beautifully with all the colours in this article, offering clean contrast and a bright outline.
Consider a higher finish on trim, like semi-gloss or high-gloss, to bring reflection and dimension to slightly darker spaces.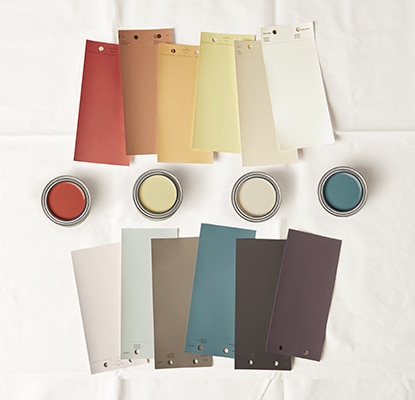 North-Facing Rooms: Increase Colour Confidence
If you have a north-facing space, and the paint colours on this page caught your eye, you still have some testing to do.

First, buy a paint colour sample from your local Benjamin Moore retailer. You can opt for oversized colour swatches or brush-on paint colour samples. If using a brush-on paint sample, we recommend painting a foam poster board so you can easily move it around and observe colours in different lighting.

Next, see how your selected paint colours look under your home's unique lighting conditions, both in artificial and natural light, throughout the day and evening.