Convert to a Benjamin Moore Dealer
Why Partner with Benjamin Moore?
Your success is our number one priority. With over a century at the forefront of product innovation and colour leadership, our reputation in the industry is unparalleled. When you join our network of more than 7,500 independently-owned stores, you become part of a community of passionate entrepreneurs who are excited about the future. We offer training and development programs and invest in your future with ongoing financial, marketing and sales support. To help you succeed, we offer comprehensive training programs and ongoing marketing support. Our unique proposition? We help grow your business with the power of a great brand.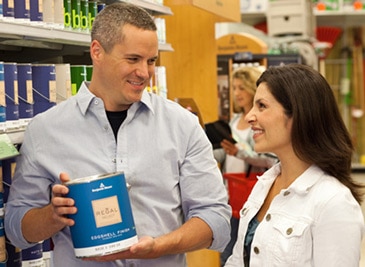 Do You Have What it Takes?
Our most successful supplies/retailers are hardworking, dedicated individuals with a passion for colour community, design and customer service. We are looking for continuous learners who are interested in working together in the long-term. Individuals with ambition to grow and innovate their business. They are able to put in the work it takes to make their business thrive. Additionally, our ideal candidates would have the following:
Minimum capital investment of $60,000 (unencumbered capital)
Retail, general business or related industry experience
Strong credit history
Located within the available market
Have in store Fixtures
Let's Get Started Together
Take the next step with us. Learn more about the path to becoming a Benjamin Moore dealer today by completing:
Our team will get back to you within two business days.
Obtenga más información sobre cómo convertirse en un distribuidor de Benjamin Moore hoy mismo completando el formulario de consulta por email. O, si quiere inscribirse ahora, complete la solicitud para distribuidores nuevos.
Formulario de
consulta por email
[Disclaimer]
No communications made through this website or any other forum or media (digital, print, broadcast, social, event presentation, etc.) should be considered as an authorization to own, or an offer or solicitation to sell or buy, a Benjamin Moore® branded independently owned retail paint business. All business opportunities remain subject to the approval of Benjamin Moore & Co., Limited.