<
Corotech® Alkyd Primers
From economical protective coatings to heavy-duty steel primers for industrial environments, choose the right alkyd primer for your project.
Prep All Universal Metal Primer
Flat
(V132)
Prep All Universal Metal Primer is an economical, single-component primer engineered to provide corrosion protection on all ferrous metals. This quick-drying formula provides fast production times, and its alkyd resin formulation allows for application of a wide variety of intermediate and finish coat products. Formulated for air spraying, it can also be applied by airless and HVLP sprayers, brushes, or rollers.
Fast 30 minute dry – recoat in 4 hours
Tie coat over many existing coatings
Corrosion protection on all ferrous metals
Available in White, Red or Gray
For helpful information, check out our tools and resources page
See how Corotech impacts commercial and industrial jobs in our video series
Colorant Used: N/A
Colour System Supported: N/A
Available Colours: White, Red, and Gray
Sheen (or Gloss): Flat
Cleanup: Solvent
Resin Type: Phenolic-Alkyd
Recommended Use: Interior, Exterior
MPI Rating:
VOC Level: 393.0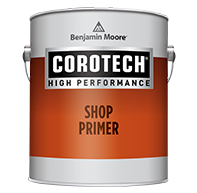 Shop Primer
Flat
(V142)
Shop Primer is an economical steel primer for commercial use in mild to moderate exposures. This product is ideal as a temporary transport coat on fabricated pieces or as an economical barrier primer. It is a temporary coating. This primer may be top-coated with a wide variety of finishes. However, finishes containing strong solvents (Ketones, Xylene, Toluene) may cause wrinkling or lifting of Shop Primer.
Economical protective coat
Accepts a wide variety of topcoats
Dry to the touch in 30 minutes
For helpful information, check out our tools and resources page
Colorant Used: N/A
Colour System Supported: N/A
Available Colours: Red and Gray
Sheen (or Gloss): Flat
Cleanup: Solvent
Resin Type: Medium Oil Alkyd
Recommended Use: Interior, Exterior
MPI Rating:
VOC Level: 337.0