<
Corotech® Specialty Enamels
A collection of specialty products, including enamels for electrostatic spraying and high-heat resistance.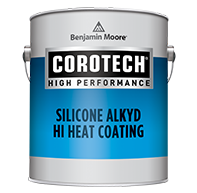 Silicone Alkyd High Heat Coating

(V264)
Silicone Alkyd High Heat is designed to protect steel that is exposed to heat ranges up to 425 °C (800 °F). This product exhibits excellent weathering, resists mild industrial chemicals and moisture and is specific to industrial use.
Aluminum colour
High-heat resistance allows for use on industrial machinery, hot metal ducting and exhaust vents
Fast dry; quick return to service
Uses include heat stacks, boiler jackets, heat exchangers, drying kilns, and incinerators
Not for interior residential use
For helpful information, check out our tools and resources page
Colorant Used: N/A
Colour System Supported: N/A
Available Colours: Aluminum
Sheen (or Gloss): N/A
Cleanup: Solvent
Resin Type: Silicone Alkyd
Recommended Use: Interior, Exterior
MPI Rating: 2
VOC Level: 442.0