<
Ultra Spec® Acrylic Self-Sealing Low Lustre Latex Paint
Designed for application to a wide variety of interior surfaces such as walls and ceilings.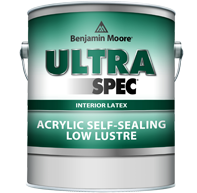 Ultra Spec Acrylic Self-Sealing Low Lustre Latex Paint
Low Lustre
(K581)
Self sealing
Excellent hiding
Great touch up
Low sheen finish
High build formula
Quick dry
Low VOC
Engineered with Gennex® Colour Technology
Recommended for:
For interior walls and ceilings. Ideal for new or previously painted drywall, and masonry as well as primed or previously painted plaster, wood and metal.
Available Colours: White
Sheen (or Gloss): Low Lustre
Cleanup: Soap and Water
Resin Type: Acrylic Blended Latex
Recommended Use: Interior
MPI Rating: 53
VOC Level: 47.0

Nylon/Polyester Professional Brushes
As the result of extensive testing, Benjamin Moore nylon/polyester professional paintbrushes are custom-blended to deliver the highest levels of performance with Benjamin Moore paints. They have just-right flex and taper for even coverage. Their capacity to hold a large volume of paint makes the job go quickly.

Shed-Resistant Professional Roller Covers
For superior performance with all paints and enamels, we recommend Benjamin Moore shed-resistant roller covers. The dense, white, woven fabric resists matting and reduces spattering for a clean job. Shed-resistant roller covers lay down the smoothest, most lint-free finish - the choice for professional results, no matter what the coating.