Ten cities. Ten murals. One unforgettable journey.
High above her bucket truck's 32-foot boom, 25-year-old artist Mary Lacy is taking an inspiring pilgrimage. Join Benjamin Moore for a bird's eye view of this incredible project, and watch as murals come to life on the walls of cities across America, created exclusively with Aura® Exterior paint.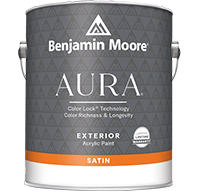 Aura® Exterior
Aura® Exterior, with our exclusive Color Lock® technology, provides the ultimate performance for rich, full color and unprecedented durability.
LEARN MORE