Lakefront communities are always chock full of decks. After all, the exterior of these homes is just as important to their owners as the interior—if not more so.

Through hard work and perserverance, pro painter Josh Quinn of Quinn's Painting in Pennsylvania has definitely become an expert on the subject. However, while refinishing decks is a lucrative revenue stream, these deck projects often come with many challenges.

Quinn and his crew encountered a range of issues. One in particular stood out: The deck flats were peeling because of improper spacing of the deck boards. To get it done right, the crew had to come up with some creative strategies to prep the deck for staining success.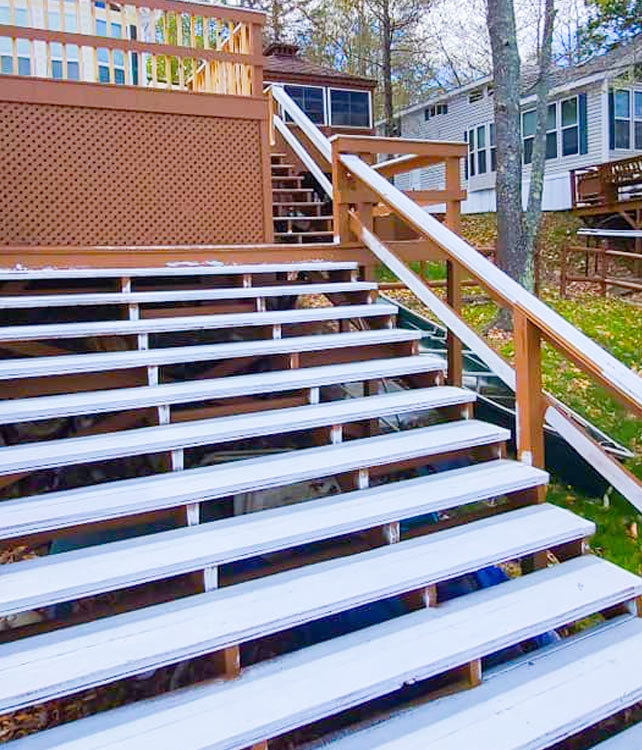 Prepping the Deck
Prepping the deck is always an essential first step in any successful deck refinishing project. This case was no different.

First, the team power washed the entire deck. Then the team sanded every surface, including the handrails, with an 80-grit orbital sander. Sanding to remove all dead wood fibers took the team a total of 16 hours to get the job done right.

The odd space between the deck boards were cleaned out with a 5-in-1 tool and special attention was paid to sanding these areas. To ensure a uniform and consistent top coat, the team chose Benjamin Moore Fresh Start® Exterior Wood Primer (094), which penetrates and seals bare wood. While most staining projects do not need a primer, this oil-based primer is a go-to for painting contractors when it comes to priming weathered surfaces. And with the top coat ultimately being stained in a solid opacity, this particular deck was more aligned with a painting job than a staining one.
Choosing Deck Color & Opacity
When it came to choosing a wood stain color, the homeowners wanted to keep the same hue as the existing deck. To find the same color, they brought a chipped off sample of the deck to their local Benjamin Moore retailer to have the color matched, and landing on Hidden Valley 1134 in a solid opacityand choosing ARBORCOAT® Exterior stain. If your client isn't quite as quick to decide on color, remember that ARBORCOAT offers handy pint-size stain samples to support the journey to the perfect opacity and color.

Quinn's crew got to work making sure every part of the deck was coated in Hidden Valley, a rich, natural brown hue. They hand-brushed the sides of each deck board using a Wooster Bravo 5.5-inch stain brush on a pole to make sure nothing was missed.

The end result was a gorgeous deck finish that would stand up to the region's elements, from summer sun to harsh, snowy winters.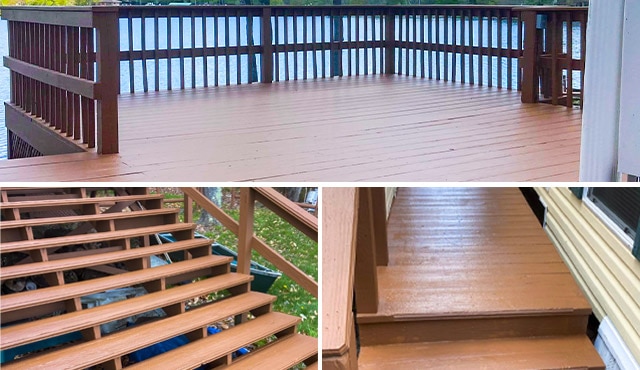 The Journey to the Job: A Study in Tenacity
High-end lakefront homes like the ones Quinn and his team regularly work on are not open to just any contractor who wants to bid on them.

Like most homeowner associations, this particular lakefront HOA requires contractor agreements, including an application, review and waiting period before anyone is even permitted to submit an estimate.

Quinn learned this the first time he noticed a deck in need of a refresh in a lake community near him. A veteran of the painting trade with more than 20 years under his belt, Wuinn struck out on his own three years ago.

"Don't skimp on products, don't skimp on tools, and don't skimp on quality," says Quinn, adding, "And I don't leave until the customer is happy."

The amazing customer reviews on his Facebook page backs up this customer-centric philosophy. Quinn also assures customer satisfaction by employing a professional crew of experienced painters, for which he pays well.

For these reasons and more, Quinn wasn't worried about submitting his application to work in the lake front community. While the process to winning the work was slow and arduous, it paid off in the end. After two years, his application was accepted.

"That summer, we finished 47 decks," says Quinn.
About Quinn's Painting
Located in the Poconos, PA, Quinn's Painting offers professional interior and exterior painting and staining including decks, houses, gutters, sheds, driveways and cabinets.