When it comes to ensuring that your paint project is a success, there is no more important place to start than room preparation, including cleaning, sanding and priming walls before painting.
While not every surface will require multi-step preparation, we encourage you to thoroughly check surfaces prior to painting and take action where needed.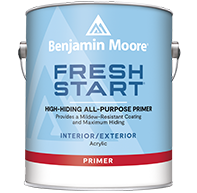 Fresh Start® Premium Interior Primers
A complete line of interior premium primers deliver the exceptional adhesion and holdout required for a smooth and durable top coat.
LEARN MORE