<
Waterborne Ceiling Paint
Waterborne Ceiling Paint is an ultra flat finish designed to hide common ceiling imperfections for a look that is virtually flawless.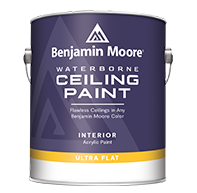 Waterborne Ceiling Paint
Ultra Flat
(508)
Superior hide for a flawless finish
Flattest finish offered by Benjamin Moore
Conceals common surface imperfections
Easy application with fantastic results
Ample open time ensure minimal lapping
Formulated for minimal spatter
Zero VOC
Engineered with Gennex® Color Technology
Watch our how-to video for tips on applying Waterborne Ceiling Paint
Available Colors: All Colors, Ready Mixed White
Sheen (or Gloss): Ultra Flat
Cleanup: Soap and Water
Resin Type: Acrylic Latex
Recommended Use: Interior
MPI Rating:
VOC Level: 0.0

Shed-Resistant Professional Roller Covers
For superior performance with all paints and enamels, we recommend Benjamin Moore shed-resistant roller covers. The dense, white, woven fabric resists matting and reduces spattering for a clean job. Shed-resistant roller covers lay down the smoothest, most lint-free finish - the choice for professional results, no matter what the coating.

Soft Nylon/Polyester Professional Brushes
A unique formulation gives Benjamin Moore soft nylon/polyester professional paintbrushes extra flex. They provide a smooth application with fewer brushmarks and excellent paint capacity. The custom blend is recommended for all Benjamin Moore paints