When it comes to painting historic homes, pros know the job requires special attention and skill. It involves matching colors from colonial, Georgian or other historic architecture. It requires patience when dealing with coats of paint that might havae been applied years or even centuries earlier. And it demands skill fixing difficult substrate wear-and-tear issues so the paint can properly adhere without failure. In other words, it calls for the help of trusted painting professionals to bring these beautiful homes back to their former glory.

Those challenges applied to this grand beauty built in the 1830s. The home stands just north of where Major General George Pickett began his historic charge during the Battle of Gettysburg on July 3, 1863. It was due for a sprucing up so the homeowners trusted the job to the capable hands of Ausherman Painting in York County, Pennsylvania.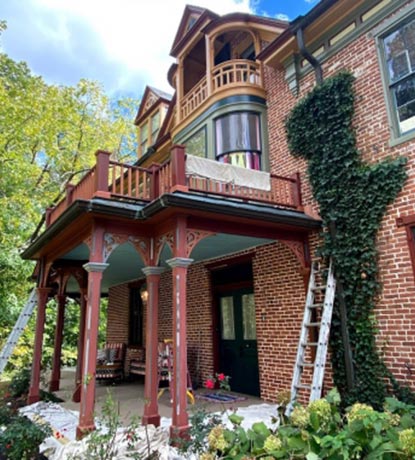 The company Mike Ausherman founded has been serving York, Gettysburg and Merchanicsburg for more than 40 years. Ausherman is a family business that believes "quality craftsmanship means not cutting corners on surface preparation, using only the best materials and providing the proper application of coats." Mike's son, Zach, grew up in the business working summers during high school and college. He took over for his father a few years ago. Ausherman Painting splits its time between high-end residential and commercial interior and exterior painting. With a team of 15, the company specializes in older homes and is also proficient in cabinet refinishing, limewashing and other specialty services. For this job, the senior crew leader was 32-year painting veteran and master craftsman Jody Harlacher.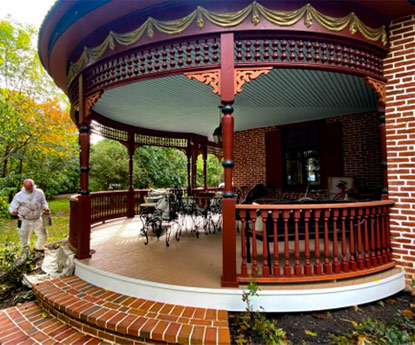 Before any painting could begin, the all-important task of color selection had to take place. The homeowners wanted the new paint to match a color scheme from the home's history. Harlacher worked with ColorMaxx of Carlisle, Penn., which is owned and operated by husband and wife, Chris and Tina Martin. They were able to match Benjamin Moore Aura® to the colors previously on the house. Most Benjamin Moore retailers offer custom colors for matching in addition to Benjamin Moore's more than 3,500 paint colors.

In addition to color accuracy, the crew wanted to deliver rich color quality and unbeatable paint durability—factors that are key to any successful exterior. They relied on Aura® exterior to get the job done right.


"Homes like this deserve the best paint available in our market," Zach says. "We've used Aura multiple times, and it outperforms the otehrs."

Four painters worked for 13 days to prep and paint the exterior, including railings, a small gable end, decorative fascia, soffit, siding, windows, doors and a door surround.

The homeowners were so pleased with the work that they asked Ausherman back this past winter to touch up multiple rooms inside the home, proving once again that historic homes require a professiona's deft touch.

Interested in historical colors for your home? Check out the Benjamin Moore Historical Color Collection and the Williamsburg® Color Collection.