HOW TO PAINT WOOD FLOORS
While most homeowners opt to stain or refinish wood floors, painting can extend the life of flooring and is easier than you might have thought. Moreover, painting offers an abundance of color options to give your wood floors an enhanced appearance.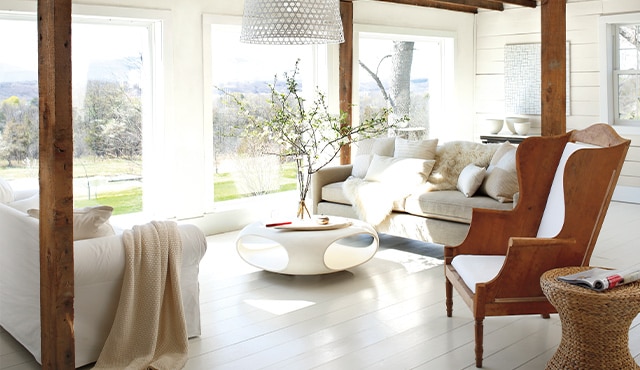 Another great reason to paint a wood floor is to update and transform the look of over-sanded, stained or older flooring in need of a refresh. Follow this guide to wood floor painting techniques and considerations to give your space a fresh new look.
Product Recommendations for Painting Wood Floors
Given the amount of wear and tear floors get, choosing the best paint for wood floors is very important. For painting wood floors, we recommend:


Fresh Start® High-Hiding All Purpose Primer - A high-quality primer that thoroughly coats and covers the existing surface and creates a strong bond between the original surface and the final top coat.


Floor & Patio Latex Enamel - This floor coating goes on smoothly and is offered in a variety of scratch-resistant colors, from low sheen to high gloss.
Step-by-Step: Painting Wood Floors
Step #1: Choose Your Paint Color and Finish
Painting hardwood floors white is a homeowner favorite. However, whatever color you decide upon, be sure to test out a sample of the color you choose. Once you start painting, it is very difficult to remove paint from a wood floor, especially an unfinished one. When choosing a paint finish for your wood floor, keep in mind that a high-gloss finish is more slippery than a low-luster satin finish.
Helpful Tips
• Removing paint from wood floors is difficult. Test the paint color you are going to use before you get started so you only have to do it once!
• If you have white or light-colored walls, paint your floors the same color to make your space feel bigger.
Step #2: Clean and Prep Your Space
Start by removing all furniture and rugs from the area you're painting. If your wood floor has previously been painted or stained with a glossy finish coating, you'll need to sand it. Using medium-grit sandpaper (120- to 150-grit) and a sanding sponge, lightly sand the wood floor to dull the surface before painting.

Clean the entire floor by vacuuming up debris and mopping the space. Use a damp rag with warm soapy water in a bucket to remove any difficult spots. Thoroughly rinse the floor with fresh water. Allow the floor to dry overnight. Tape off any molding or baseboards.
Helpful Tip
• It is not necessary to remove baseboards if you carefully tape off the wall borders before painting.
Step #3: Prime Your Floor
Using a 2 ½-inch angle-sash brush, establish the borders of your project by applying Fresh Start® High-Hiding All Purpose Primer to the floor around the edges of the room. Switch to a roller with an extension pole and paint tray to prime the rest of the floor. Roll the primer onto the floor, working toward the exit of the room, so as to not paint yourself in.

Allow the primer to dry completely. You may want to prime one day and paint the next to give the primer enough time to dry.
Helpful Tip
• Just like with walls, if your floors are already painted and in relatively good condition, priming may not be necessary. Scuffing the surface by sanding may be sufficient to obtain a strong enough bond (adhesion) for your top coat.
Step #4: Paint Your Floor
Using the same method as priming, apply an even coat of Floor & Patio Latex Enamel to your wood floor. Remember to start by cutting in edges with a brush before switching to a roller with an extension pole to cover the remaining floor area.
Step #5: Let Dry and Repeat
Allow the first coat of paint to dry before applying a second coat (check the paint can label or the Technical Data Sheet for recoat time). Remove your painter's tape immediately after you've finished applying your final coat.
Helpful Tip
• It's important to remove tape immediately after painting, as tape can damage wood surfaces like molding or baseboards if left on too long.
Step #6: Allow the Floor to Dry Completely
Check the label or the Technical Data Sheet to find the cure time of the paint. Dry time is critical when painting hardwood floors, as you'll want to be sure the paint has cured before you walk on or return any rugs or furniture to your space. Note that this could take a few days.
Helpful Tip
• Read all primer and paint instructions carefully, as dry times (how long to wait before applying a new coat) and cure times (how long to wait before you can return your wood floor to everyday use) may vary.
Step #7: Carefully Return Furniture to Your Painted Floor
Once your wood floor has cured, carefully return furniture, making sure not to drag it across the newly painted surface.
Helpful Tip
• Rugs and hallway runners can extend the life of your painted wood floor.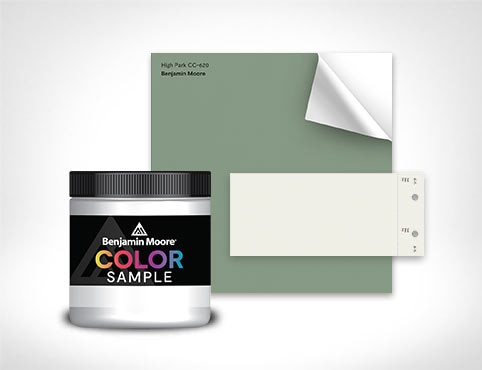 Color Samples
Try different paint colors before you buy to find the best hue for your wood floors.
ORDER SAMPLES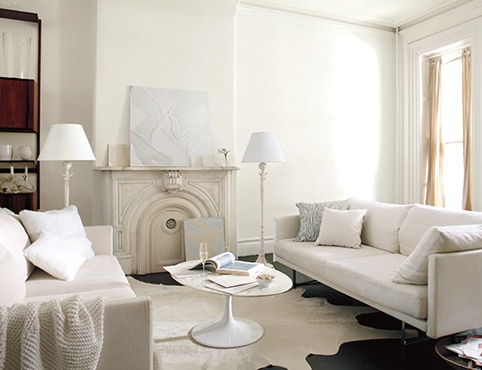 Need More Inspiration?
Explore stunning color combinations and vibrant ideas for your next interior painting project.
GET INSPIRED