HOW TO ESTIMATE A PAINT JOB
THE RIGHT WAY
It may seem like a lot of work before the work even gets started, but knowing how to estimate a paint job accurately to account for all costs can mean the difference between breaking even and making a healthy profit.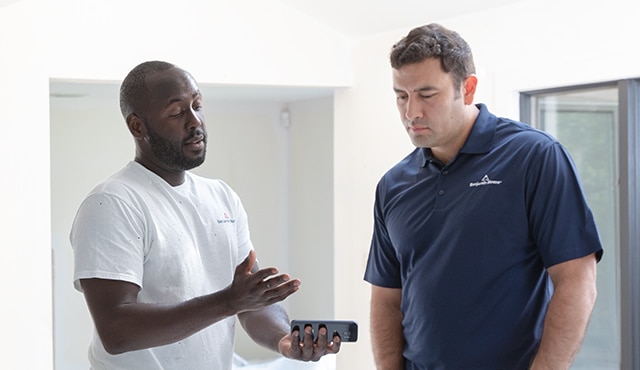 Ask five different contractors how to price a painting job and you're likely to get five very different calculations. Some contractors use a rough base rate of $1.50 or $2.00 per square foot, some multiply 4 to 6 times the paint cost, some estimate the time the job will take and add it to an estimate of materials—and some may simply offer the lowest price to outbid the competition. Each of these methods will work sometimes, but if you want to have a successful business based on providing a fairly priced, reliable service to customers who give you free word-of-mouth marketing, it pays to be as accurate as possible on the front end with your paint job estimate.

"I've seen guys just take the floor square footage, and say 'That's $500,'" explains Tony Severino, owner of Professional Painters in LaGrange, Illinois. "But I always measure all the walls and ceiling areas to be painted. The difference between an 8-foot-ceiling and a 10- or 12-foot ceiling will be hundreds of extra square feet of wall space to paint per room—times how many rooms you've made that mistake on. You can lose a lot of money bidding like that."

It may take a bit longer, but careful estimating will help you be more profitable, look more professional to potential customers, and win the jobs that are best for your business. Because the only thing worse than getting outbid on a job is winning it by being the lowest bidder—who then loses money. Here's how to estimate a paint job correctly.
Add Up the Cost of Painting Materials
The first variable anyone factors into what to charge for painting is how much paint they will need—but even that basic calculation requires some extra thought:
Are you painting an interior or exterior? Interiors typically require more paint.
Is it new construction or an existing repaint job? A new house will need more paint and caulk to cover unpainted drywall.
Is your square footage an actual measurement of wall space to be painted or just the floor space of a room with four walls?
Be Thorough in Your Scope
Avoid relying on a potential customer's estimated square footage of the job. Even if they're giving you accurate numbers, this is a great opportunity to show off your careful professionalism and build invaluable trust by using your tape or laser measure and calculating it yourself. Bring your foreman or most experienced painter with you when you do your site inspection, as they will be able to help spot any potential red flags that may need extra attention or repairs, such as wall damage or trim that needs to be replaced.

Once you have measurements, you can enter them into a paint job cost estimator to determine how much paint you need to buy (our calculator assumes two coats of Benjamin Moore paint on walls, but no ceiling painting—that should be added if needed). In addition to paint, be sure to add other essential supplies to your estimate using our Materials Checklist in the blue box.

Materials Checklist:

Paint and primer

Brushes and rollers

Caulk and spackle

Scrapers and sandpaper

Gloves, goggles and masks

Coveralls

Drop cloths and plastic

Painter's tape

Paint trays
Account for Your Overhead Costs
Overhead is a smaller portion of your budget—about 10% on average for trades, according to a survey by the National Association of Home Builders, cited by BuildingAdvisor.com. As you can see from our Overhead Checklist, it includes many of your essential "costs of doing business." Unfortunately, it's a category that many small business owners neglect to fully account for in their job estimates.

This calculation is necessarily a bit more complicated, as you're not paying for these expenses out of one job but instead, trying to evenly distribute them among all the jobs you expect to handle over the year, which need to be accounted for if you want to make a profit. If you're just starting out or don't yet have a good enough grasp on your company's annual expenses to average it out over your jobs, a good starting point is the 10% average.


Be Sure to Include Your Salary in the Equation
You also need to account for your own salary here as business owner. A common mistake new small-business owners make is neglecting to pay themselves a fair salary, expecting to take a cut of the profits they anticipate once their business is running smoothly. Not only does this add financial strain on a new business owner, but it also creates unrealistic expectations that your business can avoid paying bills when times get tough. Profit, as you'll see below, has its own business purpose.

Overhead Checklist:

Office rent and utilities

Business equipment (including computers and software)

Back-office staff (non-painters)

Communication devices (phones, tablets, etc.)

Marketing (website, pamphlets, signs, cards, etc.)

Vehicles and maintenance

Reusable tools and equipment

Business insurance

Your salary as owner
Time to Build Your Paint Job Estimate
You've crunched all the numbers and now have a quote to offer your prospective client. Give your effort the respect it deserves with a similarly professional presentation:
Use a branded estimate form or letterhead—you can use a customizable painting estimate template or estimating software.
Clearly outline the entire scope of the project, listing out all the jobs you will perform—from prep work to cleanup and customer review.
Deliver your painting estimate as promptly as possible after your site visit and offer to answer any customer questions.
Communication is Key
"The most important part of the estimate is to make sure that the client's expectations and the contractor's expectations are the same," explains Garnica of CMG Painting. "I like to take the time to carefully go through the project we are estimating to make sure that the product the client expects matches the pricing we are giving them, and we will not find changes down the road."

Be prepared for a customer to have received a lower estimate than yours, and don't be tempted to reduce your rate below what you can afford just to win the job. Be confident in your value, and tell them that your estimate is a fair rate based on your real cost of doing high-quality work that earns glowing reviews from other customers. Should you need additional help, the Painting Contractors Association publishes an in-depth Cost & Estimating Guide, and don't hesitate to reach out to your Benjamin Moore representative for more proven tools and tips that can help you succeed.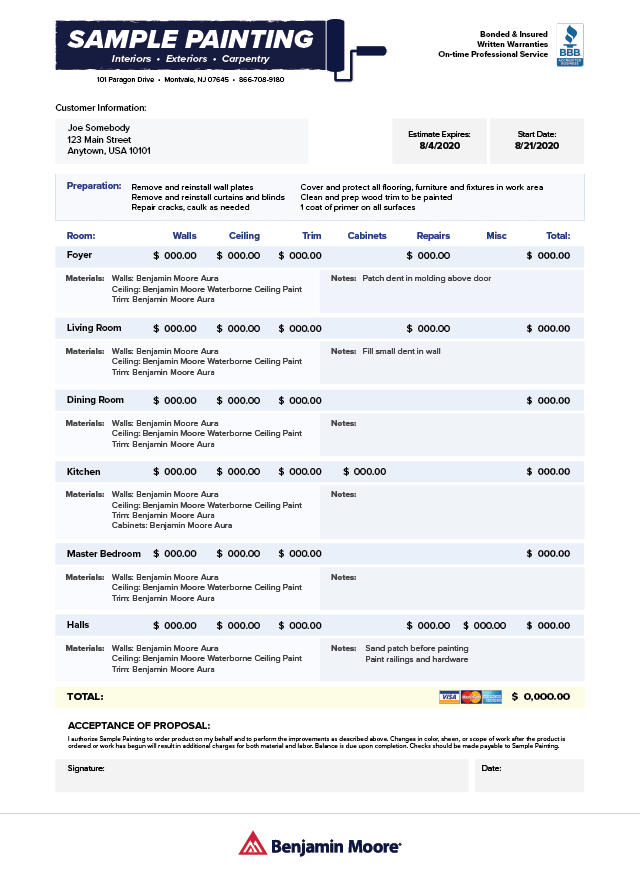 Expand

Collect, Learn and Optimize
Once you've been hired and have completed the job, take the time to do a quick postmortem and analyze your data: Did you estimate correctly across the board, or were there certain aspects of your estimate that were too high or too low? Did anything go wrong that can inform future jobs? You'll be making educated guesses when you first start out, but the more data you collect and use over time, the better you'll get at determining your actual cost of doing business—even keeping an informal written log of every job detailing the wins and losses will help you see negative patterns or positive trends. All of this lets you be more accurate, more efficient, and ultimately, more profitable.
Looking for more business info?
Get the tools and advice you need to succeed as a business owner in the painting industry today.
VIEW CATEGORIES