Our Commitment of Service to Others
We have an appreciation for the interdependence of all of our stakeholders and pride in our Benjamin Moore family. We believe together, with charitable organizations, the neighborhoods where we live and work, our network of independent retailers, painting contractors and the architectural and design community, we are true partners in creating change and strengthening our communities and businesses to thrive for years to come.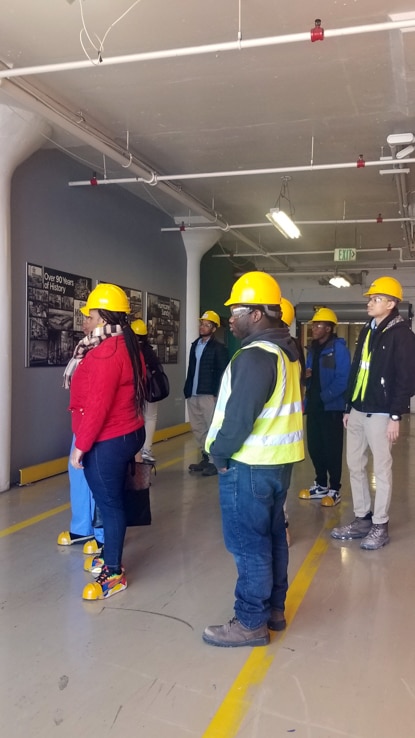 Strengthening Communities
Benjamin Moore is committed to inspiring and transforming North American communities by supporting charitable programs and nonprofit organizations that provide stability, support underserved populations, and preserve history for generations to come.

Workforce development, housing and community development, and preservation/sustainability are at the core of our social impact efforts, providing support through career and educational programs, in-kind donations, financial contributions, and employee volunteerism. Additionally, Benjamin Moore regional teams support organizations that align with our giving mission and enhance our local communities. Activities include supporting first responders, youth initiatives, environmental conservation programs, and disaster relief efforts.

2020 GIVING BY THE NUMBERS
| | |
| --- | --- |
| Monetary Donations | $685,000 |
| Paint | 5,200 Gallons |
| Volunteer Hours | 1,450+ |
| Matching Gifts | $317,160 |
Developing the Next Generation of Workers
Through educational programs that teach architecture, interior design, trade skills, science, technology and engineering, Benjamin Moore is enabling individuals to achieve careers they never thought possible. Since 2015, Benjamin Moore has provided nearly $600,000 in scholarship and program funding to help students gain access to enhanced education in these fields. We are proud of our continued support of nonprofits such as the American Society of Interior Designers, Students 2 Science, and YouthBuild USA.

In collaboration with YouthBuild USA, in 2020, we launched a pilot internship program at our Carol Stream, IL distribution center. Two interns had an opportunity to learn all facets of supply chain within the facility. Not only did the experience benefit the students, it also had an impact on many tenured Benjamin Moore employees at the site.
Transforming Lives and Local Communities
From innovative homes built using sustainable materials to projects that enhance shared spaces and bring people together, Benjamin Moore is dedicated to enriching the communities where we live and work.

We believe paint is transformational and color can encourage tranquility and boost energy. From a patient utilizing an American Cancer Society Hope Lodge facility to a veteran exploring their new Gary Sinise Foundation specially adapted smart home for the first time, we are honored to be a small part of their journey. Since 2015, Benjamin Moore has helped welcome home 44 severely wounded heroes and their families through our work with the Gary Sinise Foundation.
Preserving our History
Benjamin Moore is proud of our role in protecting and preserving our nation's history for the future. Our sustainable coatings contribute to the support of numerous nonprofit organizations and local projects that maintain and beautify our environment as well as enhance historic places for generations to come.

In collaboration with the National Trust for Historic Preservation, in 2020 we embarked on a year-long campaign honoring the 100th anniversary of the women's suffrage movement and the ratification of the 19th amendment by preserving iconic places where women made history. Working with various stakeholders through 2021—from painting contractors to historians—we are repainting sections of select properties across the country, including The Women's Building in San Francisco, CA and the Odd Fellows Building in Astoria, OR.

Learn more about our work in the communities we serve.
Supporting Our Business Partners
We are successful when our partners' businesses are successful. That is why we have teams throughout our organization dedicated to understanding and assisting the needs of our independent retailers, painting contractors and members of the architectural and design community.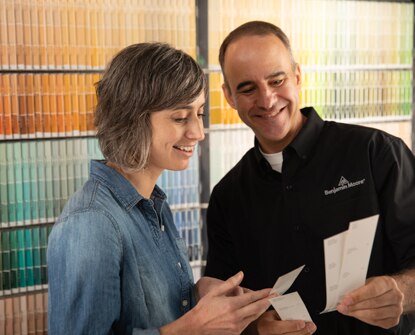 Strengthening the Independent Retailer
Since 1883, Benjamin Moore has been committed to distributing our products exclusively through the independent retail channel. With a network of more than 7,500 locally owned and operated paint, decorating and hardware retailers throughout the United States and Canada, as well as 75 countries globally, we understand the important link our businesses have to each other's success. In 2020, we added 2,166 new independent retailers to our network.

Our work with independent, locally owned retailers spans many aspects of business support, from training and marketing solutions to in-store fixture programs and product promotions. Our overall goal is to ensure the success and longevity of each retailer business and the Benjamin Moore brand.

All Benjamin Moore independent retailers can benefit from the following resources.
Store Design and Setup Services
Branded Fixtures + Installation
Exterior Sign Program
E-Commerce + Website Program
Co-op Program
Asset Library
Additionally, Benjamin Moore offers Retailer Business Consulting to aid retailers through business or financial issues. Retail services include:
Business refinements
Problem identification and resolution
Restructuring consulting
Acquisition and growth forecasting
Business and succession planning
Training and success modeling
Human resources insight and services
Learn more about becoming an independent Benjamin Moore retailer.
Uniting with Professional Painting Contractors
Together, skilled professional painting contractors and Benjamin Moore products enhance home and community spaces. We ensure our loyal contractors have access to the tools they need for successful employees and operations.

Benjamin Moore informational resources for painting contractors include:
Delivery for "how to" and project advice from our experts
Troubleshooting tips and tools
A slate of color tools to help clients make project-delaying color decisions
Solutions for minimizing environmental impact
Benjamin Moore supports many trade associations including the Painting Contractors Association and the Finishing Contractors Association. Recognizing the need for a job-ready workforce within the paint trade, for the second consecutive year Benjamin Moore collaborated with TEACH Construction to bring quality training to educators as well as independent painters and contractor businesses through instructional resources and online training.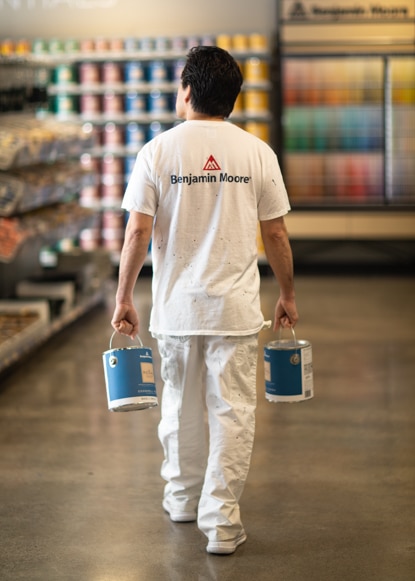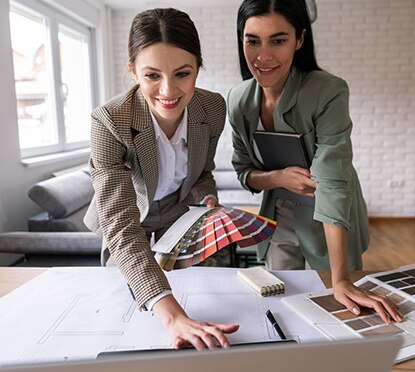 Collaborating with Architectural and Design Community
Architects, designers, color consultants and professional specifiers count on our experienced team for the resources they need to deliver quality services to their customers, including:
Providing technical information and project guidance
Collaborating, educating and training color consultants
Hosting local industry events
Delivering Continuing Education Programming (CEU) and other training activities
Benjamin Moore works closely with industry associations, including American Institute of Architects (AIA), American Society of Interior Designers (ASID), and Interior Designers of Canada. We also engage with local industry organizations throughout the U.S. and Canada.

Additionally, we partner with Material Bank, a sustainability focused business, to ship samples. This relationship encourages repurposing of returned samples, thus blocking gently used materials from entering the waste stream.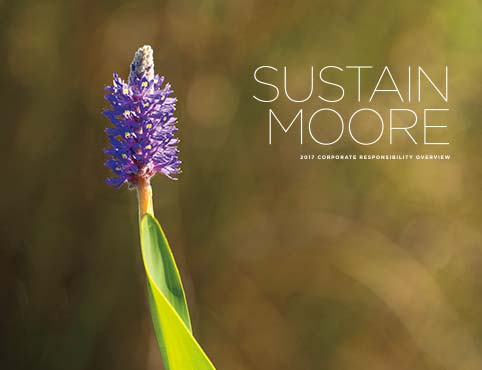 Corporate Responsibility Overview Archive
2016, 2017 and 2019 reports available for download.
LEARN MORE