Make a statement with your staircase! This high-profile, high-traffic area offers plenty of opportunities to use paint and color in exciting, creative ways.
A stairway is a main focal point in your home, and together with your entryway, sets the tone for your home's overall look. It also receives a high amount of traffic, so using high-quality paints that will both protect and beautify your staircase is essential, including Benjamin Moore ADVANCE® and Benjamin Moore Floor & Patio.

Because a stairway has several distinct parts, this project offers you the chance to be creative. Take a look at these painted staircase ideas and make them your own!
The Best Paint and Color Ideas for Any Stairway
Painting your staircase yourself? Remember that careful cleaning and priming of all stair surfaces before painting is essential for best results. Use high-quality paints with a durable sheen, like Benjamin Moore Floor & Patio for the treads and ADVANCE® for other surfaces, to withstand the constant traffic that stairs receive.

When you are ready to choose color for your stairway, lean on the free Benjamin Moore Color Portfolio® App, which empowers you to test out different color ideas virtually. You can also order paint color swatches or pint samples online or from your local Benjamin Moore retailer, delivered to your door, so you can "try on" stair paint colors before you buy.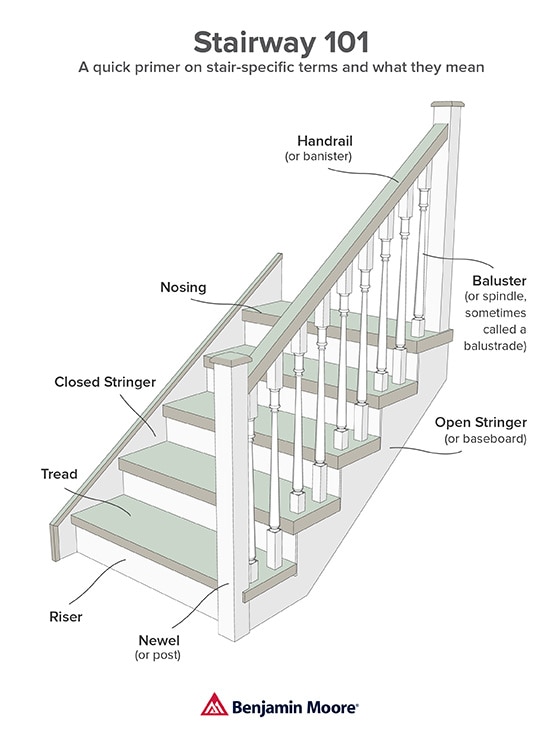 Expand

STAY CONNECTED!
Enjoy color and design inspiration, product innovation news, and event updates.
JOIN OUR LIST