When painting the exterior of your house and other outdoor features, you have two important characteristics to keep in mind: how well it lasts and how good it looks.
Painting a house is no small investment, so choosing the best paint colour for the exterior surfaces of your house means picking colours that look great and last. Benjamin Moore Aura® has you covered with durable paints that resist the punishing effects of weather—and have a lifetime limited warranty to prove it.
Find the Perfect Colour for Your Home Exterior
Make your home the envy of the neighbourhood with a beautiful, elegant and striking exterior.
Learn More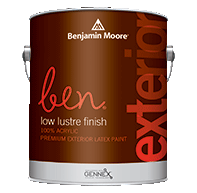 ben® Exterior Paint
Our trusted, durable classic delivers mildew resistance, advanced protection and superior adhesion.
Learn More