There are many factors that contribute to the way a color appears in a space. Both the amount of natural light, as well as the direction the light is coming from, will determine the cast of your paint color.

If you have a south-facing room, known as southern exposure, consider the following paint colors and tips to help you find the best hues for your space.
Lighting from the north, east, south or west—each has characteristics that influence the cast and color of paint. Common features of southern exposure natural light are:
A south-facing room tends to get consistent natural light throughout the day.
Natural light in a room with southern exposure tends to be strong.
Lighting often casts a warmer tone in a room with southern exposure.
The warm, natural light of a south-facing room provides an energizing, happy aura for your spaces. Select paint colors with a lower brightness and the right balance of warm and cool undertones.
Let's take a look at the ever-popular white, gray and neutral paint color families, all subtle hues that are most affected by natural light.
White Paint Colors for South-Facing Rooms: Top Picks
A white paint with a hint of gray or blue will counterbalance the naturally amber cast of southern exposure. These white paint colors feature varying levels of cool tones, depending on the warmth of your south-facing light.
Gray Paint Colors for South-Facing Rooms: Top Picks
The perfect gray depends on your unique lighting. When it comes to southern exposure, a blue-toned gray can help to neutralize warm tones.
Neutral Paint Colors for South-Facing Rooms: Top Picks
Weave sophistication into your sunny south-facing room by using a neutral paint color with a touch of gray to balance out warm natural lighting.
South-Facing Rooms: Consider the Season
Natural light can be powerful—especially in south-facing rooms, which tend to get the most sunlight throughout the day. A desert abode with a lot of natural light will be very bright. A forest dwelling with ample tree coverage will receive more muted lighting. Season, time of day, and location all factor into the overall quality of light in your space.

Seasonal impact on a south-facing room includes:
Winter provides less light, as the sun sets earlier in the day. This light is typically sharper and cooler in cast.
Summertime lighting can be warmer than winter, rendering an amber ast on the same exact paint color.
A south-facing room gets more light, which makes it ideal for bringing moodier, darker colors into the space, like Coastline AF-570, Mulberry Wine 1251 and Evening Dove 2128-30.
For trim and ceilings in your south-facing rooms, use colors like Chantilly Lace OC-65. This crisp and clean white paint color works well with all the colors in this article, a great counterbalance for southern exposure.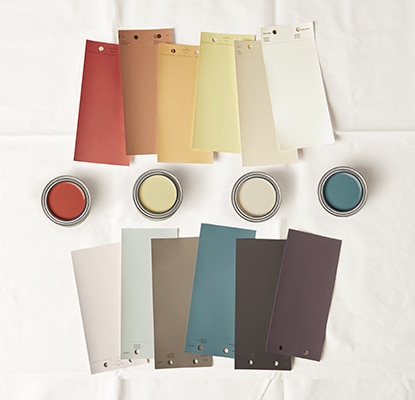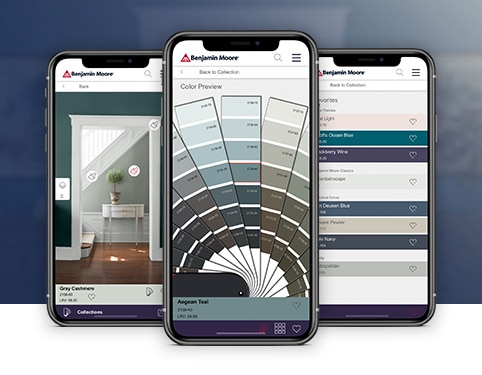 Benjamin Moore Color Portfolio® app
Apply paint color to photos of your space, access fan decks, match favorite hues to Benjamin Moore colors, and more.
LEARN MORE