Paint colors can cast differently depending on the lighting in the space. All light, especially natural light, will make an impact. Learn about rooms that get natural light from the west and the best paint colors to balance out 'western exposure' below.
North, east, south or west each deliver a different quality of light to a room, having a powerful effect on the intensity and cast of your paint colors. Some common characteristics of western light are:
A west-facing room tends to get more indirect and somewhat muted light in the morning, and stronger direct light past noon.
The natural light in a room with western exposure tends to be a warmer cast.
Amber tones are common for light that comes from the west.
How can you balance the bright, warm light of western exposure? Consider warm and cool undertones when choosing a paint color, and opt for cool-toned colors to even out the light.

Natural light will have the most impact on softer, more subtle paint colors like white, gray and neutral hues. Let's take a look at the best colors within these color families for west-facing rooms.
White Paint Colors for West-Facing Rooms: Top Picks
White paint colors that provide varying levels of cool, blue tones are best to balance out the warm cast of west-facing lighting.
Gray Paint Colors for West-Facing Rooms: Top Picks
Use a slightly cool-toned gray to balance out the warm tones typical for a west-facing room and breath elegance into the space.
Neutral Paint Colors for West-Facing Rooms: Top Picks
A greige or neutral with cool undertones can help to counterbalance the golden rays of a room with western exposure, and ground the amber-toned light.
West-Facing Rooms: Consider the Time of Day
Do you live in an environment with a lot of tree cover? Or a desert environment with nothing more than cloud coverage? Time of day, season and location are highly influencial when it comes to lighting.

Consider:
Morning light can evoke dim, less strong lighting.
Afternoon lighting yields a warmer cast as the sun makes the transition into the west.
Consider the time of day you use your room with western exposure. A breakfast nook with western exposure may need more artificial lighting and a brighter paint color, while an office used throughout the day will likely receive ample lighting past noon.
For trim and ceiling paint colors for your west-facing room, look to Chantilly Lace OC-65. This clean and crisp white paint color will work well with all the paint colors in this article.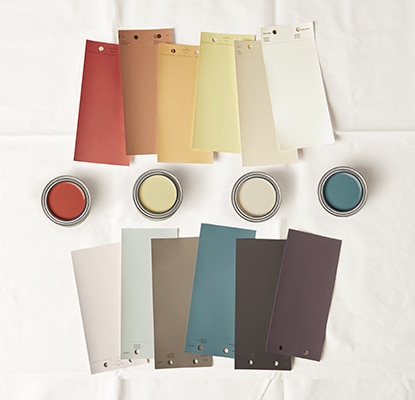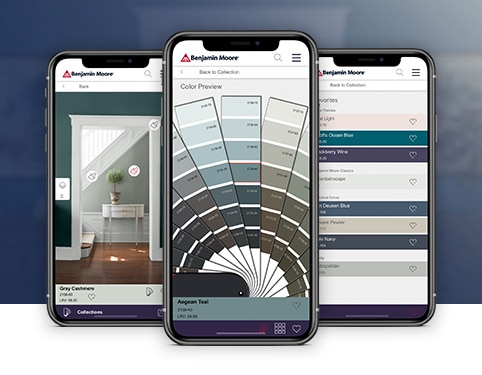 Benjamin Moore Color Portfolio® app
Apply paint color to photos of your space, access fan decks, match favorite hues to Benjamin Moore colors, and more.
LEARN MORE