Paint transforms any space. But when a repaint demands wallpaper-removal, repair, and prep—only a proven painting professional will do.

Tired of a wallpaper-clad living room and ready for a full living room makeover, the homeowners turned to European American Decorative Paint Ltd, one of the northeast's most respected painters. Alongside the homeowner, the team decided on a gray and white paint color scheme to evoke a more modern design in the space using Benjamin Moore paints for the entire project.
Professional Painting Experience & Craftsmanship
The many intricacies of the large, living room project offers an excellent example of the type of care and attention only an experienced painting contractor can deliver.

There were several challenges that come with removing wallpaper and prepping walls for paint. In this case, the room's sheer size added a layer of complexity: the room spanned more than 24x44 feet and 12 feet high. Wide crown moldings, a unique custom trim design on the ceiling, and a bounty of wall ornamentation offered still more particulars. Only a pro with decades of industry experience could handle a project of this scope of complexity.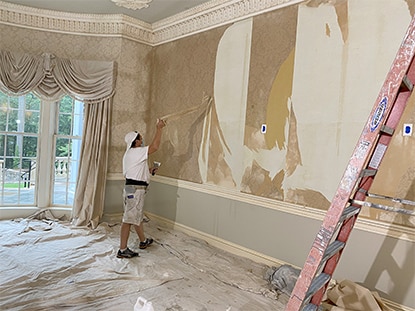 Wallpaper Removal: First Step for This Living Room Makeover
To get started, the European American Decorative Paint team carefully removed breakable items, furniture and curtains, and stored them all safely outside the room.

After emptying the room, it was time to remove the wallpaper, a challenging and time-consuming process. The team used DIF, a liquid concentrate wallpaper stripper and water, to remove all of the wallpaper, taking care not to damage the substrate below.
Overhauling the Trim and Ceiling
All trim, 14-inch crown moldings, ornamental window frames, French doors, chair rail, arched door frames, and base board where then primed and sprayed with Benjamin Moore ADVANCE® Interior in White Dove OC-17, a classic white paint color and a favorite color for moldings and trim. For all trim, the team decided on a luxurious satin finish. The team chose Benjamin Moore® ADVANCE® Interior paint for its incredible leveling and easy-to-use waterborne-alkyd formula. ADVANCE® is renowned for its durable high-end finishes that professional painters count on for doors, trim and cabinetry.

After partially skim coating, caulking and priming, the team painted the ceiling with Regal® Select Interior paint in a flat finish, using the same paint color as the trim—White Dove OC-17.
Removing Wallpaper, Prep & Painting Walls
Removing wallpaper can be an arduous, challenging task. If the wallpaper wasn't applied properly using wallpaper sizing, when the paper is stripped off, chunks of the wall may come with it.

In this case, the wallpaper removal went smoothly, revealing a wall in good condition. The crew still had to sand thoroughly to ensure no wallpaper paste remained that would interfere with paint adhesion. After the walls were clean, dry and dulled, the team applied primer.

Suciu and his team used Regal® Select Interior paint for the walls in an elegant matte finish. While the homeowner loved Revere Pewter HC-172—one of Benjamin Moore's most popular greiges—the homeowners wanted it a touch lighter, so they opted to cut Revere Pewter by 50% with a white paint.

Part of any high-quality job is meticulous cleanup, and this project was no exception. When painting was complete, the team cleaned the room, and then replaced and arranged all the furniture back into position as well as replacing pictures and mirrors.

"For European and American Decorative Painting Ltd, working on this project was a privilege and an honor," says owner Peter Suciu.
About European American Decorative Painting, Ltd.
Owned by Peter Suciu, European American Decorative Paint Ltd. has served the northeast with expert painting craftsmanship since 1987. Suciu learned the art of professional painting in Romania in 1975 and now proudly teaches a whole new generation of painters the value of quality, craftsmanship and professionalism.