It had been more than 20 years since Marci Koman's Hershey, Penn., home had been painted. She decided it was time for a new and beautiful color refresh. Not interested in DIY (do it yourself), Marci was looking for a DIFM home improvement project (do it for me). That decision would end with total satisfaction and, yes, music.

Marci made another smart choice: to shop local. She sought paint and color advice from Aumen's Paint Store, an independent Benjamin Moore retailer owned by her friend, Wendy Weary. The family-owned store has been serving Hershey for 50 years. Wendy and her nephew Derek Hench currently run the store her parents founded in 1971. She describes the neighborhood store as being a little like the classic sitcom Cheers, "Everybody really does know our name, and we are always glad they came," she says. Aumen's offers superior paint, supplies and top-notch color consulting services.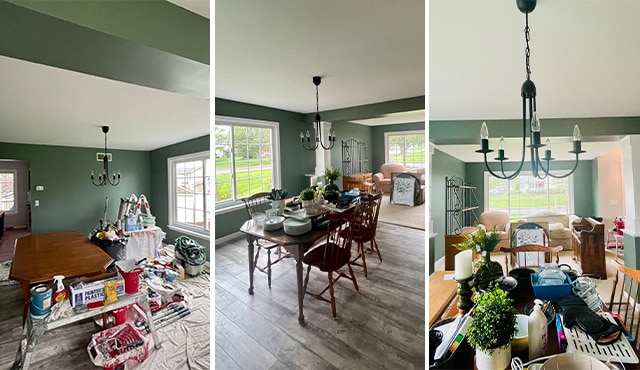 Picking Paint Color, Working with a Pro
Working together, Wendy and Marci created a stunning palette from Benjamin Moore's more than 3,500 paint colors, including an elegant neutral backdrop with some really fun pops of color.

With colors chosen, it was time to find a professional to apply the paint. Marci discovered Just Add Paint through an internet search, but Aumen's or any Benjamin Moore retailer will often recommend a local painting pro. She didn't know it at the time, but she stumbled upon a rare combination of artistry, product knowledge, hard work, and even musical talent.

Enter Curtis Tankersley. He originally took up paintint to help pay the bills while studying psychology and pursuing a career in music. When he realized he'd rather work with his hands, he started Just Add Paint, specializing in cabinet painting, interior residential repaints, and custom new builds. The work is done by a small, tight-knit group hand-selected by Curtis for their ability to work hard and bring a winning attitude to the team. "We take so much pride in the work we are doing, and we go above and beyond to make sure our work is exceptional," says Curtis.

Curtis knew that the existing paint job—23 years old—would require a fair amount of prep to ensure a successful outcome. The trim was previously painted with an oil-based product, but the refresh would call for Benjamin Moore Aura® interior semi-gloss, in its ready-mix, 01 White base, which can be an excellent option for a crisp white. The team took special care to make sure the transformation was smooth, beautiful and long-lasting. All trim and doors were meticulously sanded and cleaned. In addition, target areas were properly caulked and patched. After that, it was time to paint.

Brushing on a Colorful, Fresh Look For the walls in the dining and living rooms, the team used Benjamin Moore Regal® Select in Lush AF-475, from the brand's versatile Affinity® Color Collection. In the remaining areas, they used Stonington Gray HC-170, from the brand's time-tested Historical Color Collection.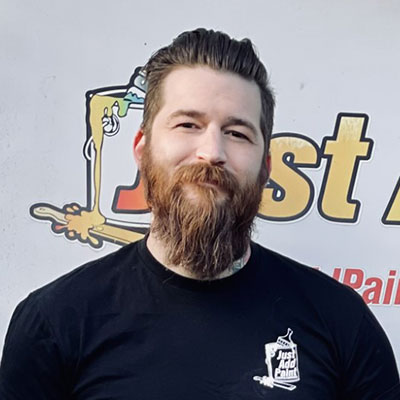 "We are fans of Regal Select because, it cleans easily and has exceptional hide and build. The application is just so smooth. And is Aura great for the trim. In the past we've used it for accent walls with really deep colors. For this project, it had great bite and coverage, was very thick, and almost felt like oil-based paint when it dried," says crew leader Matt Schmohl.

Marci was so thrilled with their professional craftsmanship, she gave them additional rooms to paint. Now she joins the ever-growing ranks of satisfied customers of Benjamin Moore paint, Benjamin Moore retailers and Just Add Paint. The latter of which includes an invite to an annual customer appreciation party, where the Just Add Paint team provides food, refreshments and, of cource, live music.