Chalkboard paint can add a design edge to any room in the house–and make communicating a lot more playful too!
From large hand-drawn murals to delicate labels on bottles and jars, chalkboard paint offers endless opportunities. It also makes schedules and to-do lists more fun. Benjamin Moore's ben® Chalkboard, available in thousands of colours, makes it all possible.
---
Select Any Colour
You can create erasable chalkboard walls in any one of our premium 3,500+ colours; here's a small sampling.
---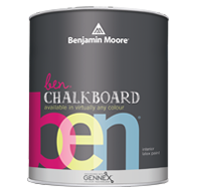 ben® Chalkboard Paint
Transform almost any interior surface, in over 3,500 colours, into an erasable chalkboard–and let creativity take flight.
LEARN MORE