Add the perfect finishing touch to your kitchen with paint colour that highlights and brings together the existing features of the space.
Kitchens have several fixed elements, including the countertop, backsplash, cabinets and flooring. While neutrals are very popular for kitchens, there are also opportunities to bring accent colours into the room—even a small dose of colour makes a big impact. Benjamin Moore's Regal® Select Interior paints offer fresh colour for your kitchen along with superior durability and washability no matter what sheen you choose.
Find the Perfect Colour for Your Kitchen
Every colour search is different. Let us help you find the right paint colour for your kitchen.
Find Your Colour
Regal® Select Interior Paint
Available in five finishes to match your kitchen's style:
flat, ulti-matte, eggshell, pearl and semi-gloss.
Learn More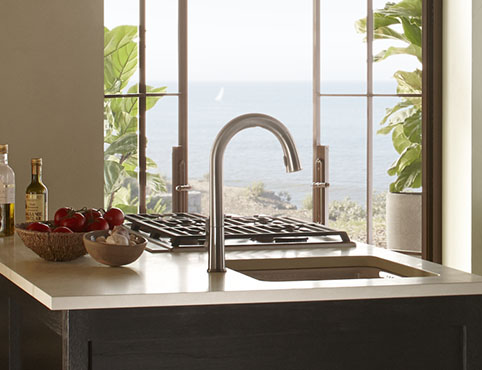 Kitchen Paint Ideas with Fixtures and Finish
Our curated paint palettes, perfectly coordinated with elegant fixtures, make it simple to create a kitchen with timeless beauty.
Learn More