By properly cutting into a room, you can actually help shorten the time it takes to paint an entire room.
Ceiling lines, outlets, windows, doors, mouldings, baseboards (with corners), trim and more are all surface spaces that are too tight for paint roller use. That's where "cutting in" comes in. Follow these steps to learn how to cut in paint like a pro.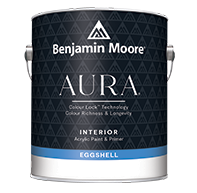 Aura® Interior Paint
It's your home's special-event room, and you want to show it off with pride. Pick a paint that combines rich, vibrant colour with unprecedented durability.
LEARN MORE