<
Corotech® Waterborne Primers
Tough use-specific primers with good bonding and easy water-based clean-up.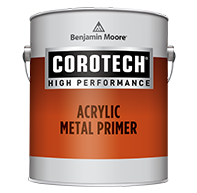 Acrylic Metal Primer
Flat
(V110)
Acrylic Metal Primer is a water-reducible, rust-inhibitive primer for steel, iron, and non-ferrous metal. It provides excellent adhesion to a range of hard-to-coat surfaces and can even be applied over tightly adhering rust. Designed for light-to-moderate industrial exposures, this product can be top coated with a wide variety of coatings.
High solids content
Suitable for occupied areas
Can be recoated in just 4 hours
Suitable for use in USDA-inspected facilities
Qualifies for LEED certification
For helpful information, check out our tools and resources page
Colorant Used: Can be tinted with 60 ml of Universal colorant
Colour System Supported: N/A
Available Colours: White and Red
Sheen (or Gloss): Flat
Cleanup: Soap and Water
Resin Type: Waterborne Acrylic
Recommended Use: Interior, Exterior
MPI Rating:
VOC Level: 199.0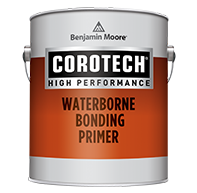 Waterborne Bonding Primer
Flat
(V175)
Waterborne Bonding Primer is a one-component bonding primer that may also be used as a rust-inhibitive universal primer. This product bonds to various metals creating a solid foundation for finishing coats. This product may be finish coated with a wide variety of coatings including alkyds, acrylics, epoxies, urethanes and moisture cured urethanes. Because of its versatility on all metals, Waterborne Bonding Primer will replace traditional wash coat primers and offers an easier-to-use alternative for all projects.
Replaces traditional wash coat primers with an easier-to-use coating
Low VOC, soap and water clean-up
Bonds to all metal substrates including tough to coat chrome, brass, stainless and aluminum
Suitable for use in USDA inspected facilities
Qualifies for LEEDS credits
For helpful information, check out our tools and resources page
Colorant Used: N/A
Colour System Supported: N/A
Available Colours: Translucent Green
Sheen (or Gloss): Flat
Cleanup: Soap and Water
Resin Type: Waterborne Acrylic
Recommended Use: Interior, Exterior
MPI Rating:
VOC Level: 85.0