HOW TO PAINT OR STAIN AN OUTDOOR FENCE
A fresh coat of paint can update a weather-worn fence or beautify a new one.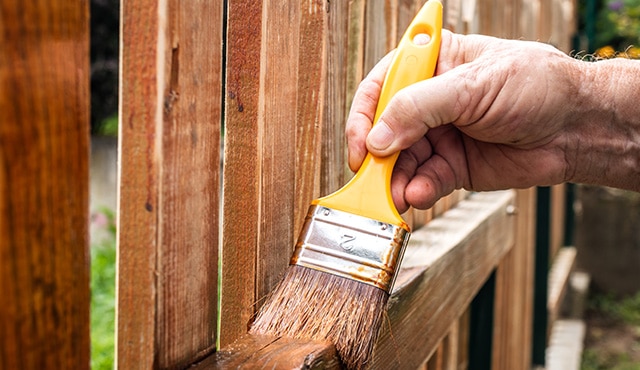 Painting or staining an outdoor fence also helps protect it against the elements. Whether your fence is wood, vinyl or metal, we've got you covered with our step-by-step guide.
Staining vs. Painting a Wood Fence: Which is right for me?
Paint and stain both protect and enhance the look of your wood fence—but how do you know which approach is right for you?

Mostly, it depends on how much you like the natural appearance of the wood. Stain can change the look of a newer fence without hiding the natural features of a fence's wood grain. Paint, on the other hand, can dramatically transform the look of a wood fence.
Which Paint Product is Right for Your Fence?
Wood, metal or vinyl are the most common types of outdoor fences. The product you will choose to paint or stain depends on the type of material your fence is crafted from.

Helpful Tip
A solid stain will not only completely transform the look of your wood fence, it saves you the step of priming.
Step #1: Check the Weather Forecast
The optimal temperature for exterior painting projects is between 35 ℉ (2 °C) and 100 ℉ (38 °C) with low humidity. If staining a wood fence, it's best to apply the stain out of direct sunlight to prevent lap marks. Consult the can or Technical Data Sheet for both dry time and cure times based on the products you use.
Step #2: Clear and Prep the Area Around the Fence
Remove any nearby outdoor furniture or equipment. Cut the grass around your fence to make painting easier. Cover the sidewalk and any nearby shrubs, flowers or other landscaping with a tarp to avoid getting stain or paint on them. Use painter's tape and plastic sheeting to create a protective border between your home exterior and your fence.
Step #3: Prep the Fence
To prep a wood fence, inspect your fence for loose nails, screws, or cracked boards. Fix spots on the fence in need of repair. Allow all repaired areas to cure completely before you start painting. Disassemble fence hardware if necessary.

Note that prepping a wood fence for painting or staining is a similar process to deck stain prep. Here are the basic prep steps for painting or staining:
Sand down your fence with medium-grit sandpaper (120- to 150-grit) to achieve a smooth finish and remove any peeling paint.
Wipe away sanding dust and thoroughly clean your fence with a damp cloth, garden hose, or a pressure washer.
Let dry completely.

Prepping a vinyl fence for painting is simple: Make sure the vinyl is clean, dry and in sturdy condition before priming.

To prep a metal fence, power wash the fence, or use a damp cloth and wire brush to ensure the fence is clean and dry before starting to prime.

Helpful Tip
If your wood fence is new, make sure to wait three to four weeks before painting or staining to prevent warping and maximize adhesion.
Step #4: Prime the Fence
If you're staining a wood fence, there's no priming necessary.

For all other fences, use a paintbrush or roller to apply an even coat of primer to your fence. Make sure to use the best primer for your fence material as noted above in the Supplies Checklist.
Step #5: Paint or Stain Your Fence
If you're staining a wood fence, take the age and condition of your wood into account in order to choose the best wood stain colour and opacity.

You may opt to spray a fence, which is faster and more efficient than doing it by hand. If spraying primer on a wooden fence, be sure to back-brush the primer into the grain of the wood.

If you opt for the manual route, use a paintbrush or roller to apply an even coat of paint or stain to your fence. Start from the top of the fence and work your way down. Make sure you paint horizontal panes with horizontal strokes, and vertical panels with vertical strokes.
Step #6: Let Dry and Repeat
Once the first coat of paint or stain is dry, repeat painting or staining with a second coat. Allow the paint or stain to cure completely before returning any hardware to the fence.

Read primer, paint and stain instructions carefully, as dry time (the length of time before applying a new coat) and cure time (the time before you can return your fence to everyday use) may vary. You can find dry and cure times on the paint can or the paint's Technical Data Sheet.