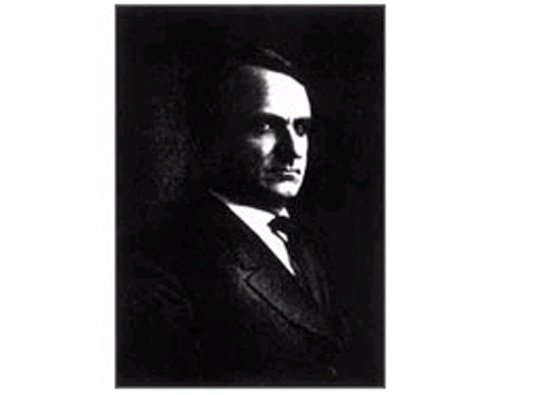 Benjamin Moore Himself (1855-1917)
Benjamin Moore was born in Ireland in 1855 as one of a large family of ten children. His father, also named Benjamin Moore, had been a sergeant major in the British Army but retired in Ballybay (Monaghan County) Ireland where he became a farmer. In 1872, when he was 17 years old, his son Benjamin immigrated to New York, as did so many other Irish people of that era. Young Benjamin settled in Brooklyn where he quickly found work as a salesman in the painting trade.
A Company Grows in Brooklyn
In 1883, Benjamin Moore and his brother started Moore Brothers Paint Company in a small loft at 55 Atlantic Avenue in Brooklyn. This illustration shows the original building. Unfortunately, the following year, a fire broke out elsewhere in the building, which burned to the ground. To show his determination, Benjamin was the last person out. Within three days, he was back in business in a new loft at Water and Adams Street.
Muresco® A Paint Sensation
In 1892, Benjamin Moore introduced a new paint sensation. It was called MURESCO® paint. This superior white paint became the best-selling calcimine paint in the United States in the early part of the twentieth century. Muresco® paint incorporated both Irish moss and Pennsylvania clay and came as a dry powder. Prior to products like Muresco® paint, those who wanted to paint had to assemble the ingredients themselves. With Muresco, they simply added water and were ready to paint. Muresco® paint eventually was available in 32 different tints and colors. An early company advertisement explained the different colors could be "blended to secure practically any shade."
Scrub-a-dub-dub (if it's Sani-Flat® Paint)
Benjamin Moore's highly durable Sani-Flat® interior paint with an eggshell sheen debuted in 1907. It more than met the consumer's objective for a quality non-shiny oil paint that could be washed with water over and over. By 1928, Sani-Flat® paint was available in 20 colors plus white. The Sani-Flat® brand is still part of the Benjamin Moore family of paints.
Interior and Exterior Decoration
To assist consumers in their painting projects and color selection, Benjamin Moore began issuing lovely decorating brochures in the early decades of the twentieth century. Some of these beautifully designed brochures had hand-tipped colored illustrations taken from original watercolors. This is the cover of one of them, issued in 1924. Benjamin Moore established a department of home decorating in 1929. Activities included decorating and furnishing a model three-room apartment at company headquarters at 511 Canal Street in Manhattan. Staff decorators also answered consumer painting and decorating questions by mail.
Who was Betty Moore?
By 1930, "Betty Moore" was on the air for Benjamin Moore. This fictional character not unlike Betty Crocker presided over regular weekly radio programs, offering color and decorating guidance. Over the years, a succession of actresses played Betty Moore. Benjamin Moore's decorating department employed many representational Betty Moores who assisted consumers with their color and design dilemmas. Shown here is an idealized picture of Betty Moore in a 1942 decorating brochure issued by Benjamin Moore.