EARLY RETAILING
A closer look at the early retailing of Benjamin Moore
Getting the Word Out
Retailers geared up for a crowd when presenting programs on painting and decorating with Benjamin Moore paints.
Benjamin Moore assisted the retailers in marketing to consumers. The company encouraged retailers to hold programs to get consumers into the store and to encourage them to paint their home, inside and out.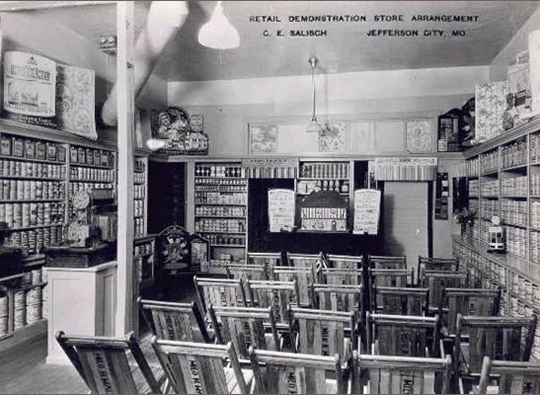 All Dressed Up with Some Place to Go
Hats and gloves were customary when ladies ventured forth for an afternoon's instruction on house paint.
In the days before television's how-to programming, those who wanted to learn had to get dressed up and come downtown for informative programs on how to paint and select color schemes.
This group is attending a program at the Fulton Lumber Company in Fulton, Missouri.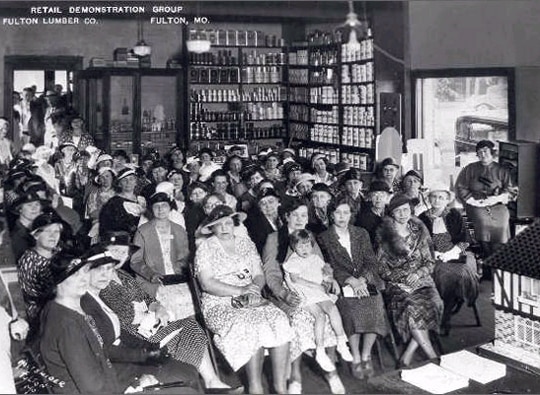 Say It with Flowers
The floral displays suggest this store was holding a special reception.
Banish the idea that retail paint stores had to be dark and dingy places. Not only is this store brightly lit and cheerful, but it is decorated with bouquets of fresh flowers. The photograph has an air of expectancy – as if a party were about to take place.
A Friendly Welcome
Old-time paint retail salesmen stood ready to answer any and all painting questions.
This picture of the A.W. Levermann paint store in Corsicanna, Texas is from 1934.
Notice the displays of Benjamin Moore products, including special barn paint. Benjamin Moore offered its retailers an unending supply of signs and displays as sales promotion aids.
By 1934, Betty Moore was on the job. This imaginary character, played by a series of actresses, traveled around the country giving lectures and demonstrations on how to select paint and color schemes and answering consumer painting questions.
Stylish Stores
Even way back when, paint stores were a part of the home fashion world, as this stylish store interior indicates.
While the picture is undated, the fact that the store is decorated in the newly fashionable Art Deco Streamline style suggests it is from the 1930s or 1940s when this particular style was at its height in the United States.
Use "Moore" Paint
Signs on trucks helped spread the message to Use "Moore" Paint.
Standing outside the Hynds-Upshaw Paint and Glass Co. store is a truck resplendent with the advice to Use "Moore" Paint. Paint retailers identified both themselves and the paint products they carried in company trucks that in those good old days delivered.