Known for creating colour palettes and using materials that exemplify comfort and infuse intrigue, Georgia-native Wesley Moon mixes southern-style hospitality into his client-centric approach.

HQ: Manhattan, New York. Learn more at Wesley Moon Inc and @wesleymooninc.
The designer shares insights from re-imagining existing furniture and architectural solutions for interior design, to ensuring the desired outcome with top-of-the-line paint application (sanding between coats is a must).
Do you have a design philosophy?
Wesley: My philosophy is simple: it's a home, not a museum. It's your home, not mine. I'm in the design business, it's not about my ego. It's about customer service. It's about making sure I'm putting out a product of which I can be proud.

I love design and I've recently done my own apartment; that's when it's all about me. But when I'm working, it's my job, and the client comes first. It's all about making a home that people want to live in, especially now.
Speak to your passion for architecture, and how that applies to your design work.
Wesley: I'm professionally trained in architecture, I have a real passion for it. That's something that not many interior designers can say; it gives me such a leg up on how to create the foundation for great interior design.

When it comes to my architecture projects, I hire an architect of record to review everything for code, and help my team with building codes; but the design and architectural work is mine. I care about making it beautiful, I care about making it functional, and that's the part that I concentrate on.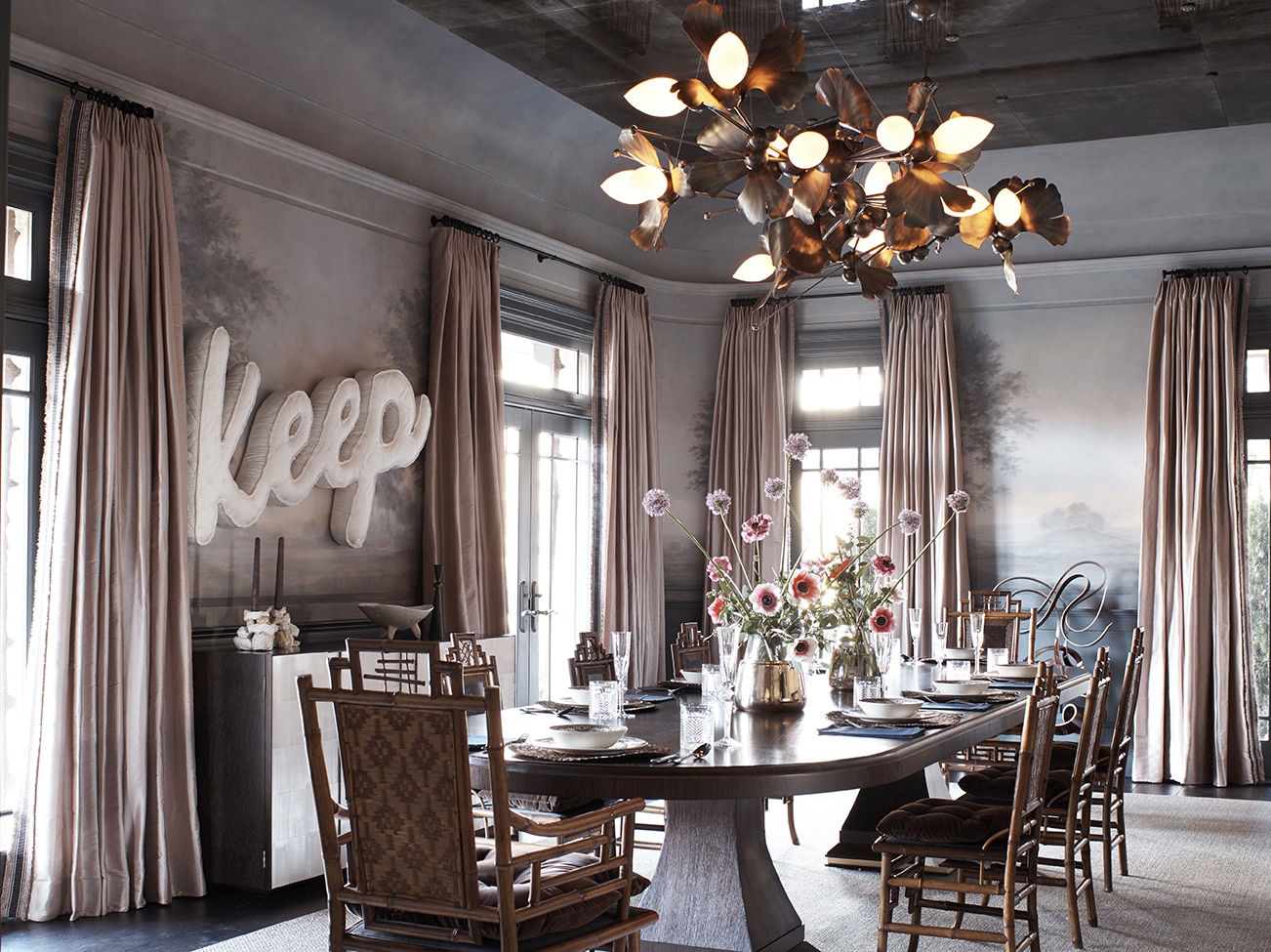 How does your initial planning take structural solutions into consideration?
Wesley: Many new clients initially come to me for something more decorative versus a structural overhaul, they don't realize just how much architectural work I do. Oftentimes the scope of the job shifts to include more structural changes, in some cases it has shifted to a full gut renovation after we take full stock of the current situation; however, when the circumstances do not allow for a structural solution, there are many ways to get around unfortunate as-built conditions using decoration alone.

Let's say that I need a bed in a certain location, but it's not centred on the wall. There's no way to do it, because someone didn't think about where the doors were or how it relates to the window. That's when you can play decorative tricks; you can put a canopy over the bed or create a niche in the wall, something that's not so invasive that makes it feel, architecturally speaking, like that's where it's supposed be.

There's a lot of ways to trick the eye, and make something feel more balanced. I find in New York a lot of the beams that are going across ceilings are not centred on anything. Sometimes we'll add a second beam or make a beam wider, if that gives it symmetry. There's a lot of ways that you can play with it when you have the right knowledge; you can make architecture happen where it wasn't there before, without doing a major structural thing.
"IT'S ABOUT USING AN UNEXPECTED COLOUR PALETTE."
 - Wesley Moon,
Principal, Wesley Moon Inc.

What are your thoughts around balance, scale and symmetry?
Wesley: Balance, scale and symmetry are the most important building blocks of any interior. People don't think about it when they're right, but they certainly know when they're wrong.

For example, when I did the Kips Bay Show House I was given this room with HVAC grills in the ceiling. They were off centre and really ugly; they looked like a hospital ceiling. I actually ripped out the ceiling, I relocated the HVAC vents, and made really nice linear slot diffusers centred on the wall. No one knew I did that. But if they'd walked in and seen this big ugly grill, it would have been a blight on my room. I turned it into something beautiful, without getting any notice for it. But that's the good thing: It went away.
Wesley Moon
Designer Showcase
Explore the stylized use of color and the layered design of Manhattan's Wesley Moon.
All of the photos in the Design P.O.V. series are courtesy of the interior designers featured. You can find paint colours like the ones pictured at
your local Benjamin Moore retailer.
How can everyone find access to good design?
Wesley: If you want good design and don't have an extensive budget, you can make that happen. Paint is the easiest way in the world to change your room, and it's so cost-effective.

I lived in a walk-up tenement on the Lower East Side when I first moved to New York. I had no heat and my tub was in my kitchen, but I painted every surface that would stand still, including the floors.

I bought a few pieces and made them unique. I wrapped a cabinet in full leather and mirrored the doors. You can have something unique and something you love that reflects you.
How do you integrate a client's existing furniture into your designs?
Wesley: If there is a piece of furniture a client loves, then it has a place in their home.

One client inherited her grandmother's mirror, and the frame on it was not going to fit into the design of her home. So, we reframed it. What matters to her is that when she looks at her reflection, she knows her grandmother looked in that same mirror. The new frame is beautiful and fits well with her space.

Another client's husband inherited a very heavy, carved Chinese screen. A beautiful piece, but it was very bulky and wasn't going to work well on her wall. Instead, we turned it into a coffee table. There are so many ways that you can retain and reuse pieces with sentimental value while altering them to work with the overall design.
Being from Georgia, do you believe there is such a thing as regional taste in design choices?
Wesley: Absolutely. I'm working on a project in North Carolina, which is like a homecoming. It's set on 20-acres with trees, a creek—the landscapes from my Georgia roots. Now, I'm building a modern farmhouse, which marries the vernacular of my childhood with where I am now in my career. It will be regional, but we're going to take influences from other places that will fully enhance the overall experience.
How do different environments impact your work?
Wesley: The light, the length of the day, how the air feels…it all ties together.

Take the North Carolina house I referenced. Heat and humidity play a role. There are four distinct seasons and there will be snowstorms. It's close to the ocean, so they're going to deal with hurricanes. We're planning vast windows facing south to bring in sun and warmth in the wintertime. We're also making windows that can be tinted with the touch of a button, and there will be retractable awnings to provide shade in the summertime.
How does it feel to be listed as one of the new guard of design by Carl Dellatore? What sets you apart?
Wesley: I was incredibly honoured to be included in Carl Dellatore's book, On Style - Inspiration and Advice from the New Generation of Interior Design, which labelled me as one of the "new guard," one of the 50 most up-and-coming designers moving the discipline forward. I think what sets me apart is that I understand the importance of designing. It's not something you can phone in. It's something you do with your heart, but you have to understand how to layer, how to create comfort, infuse sophistication.

It's about using an unexpected colour palette. It's all about how you use your colours.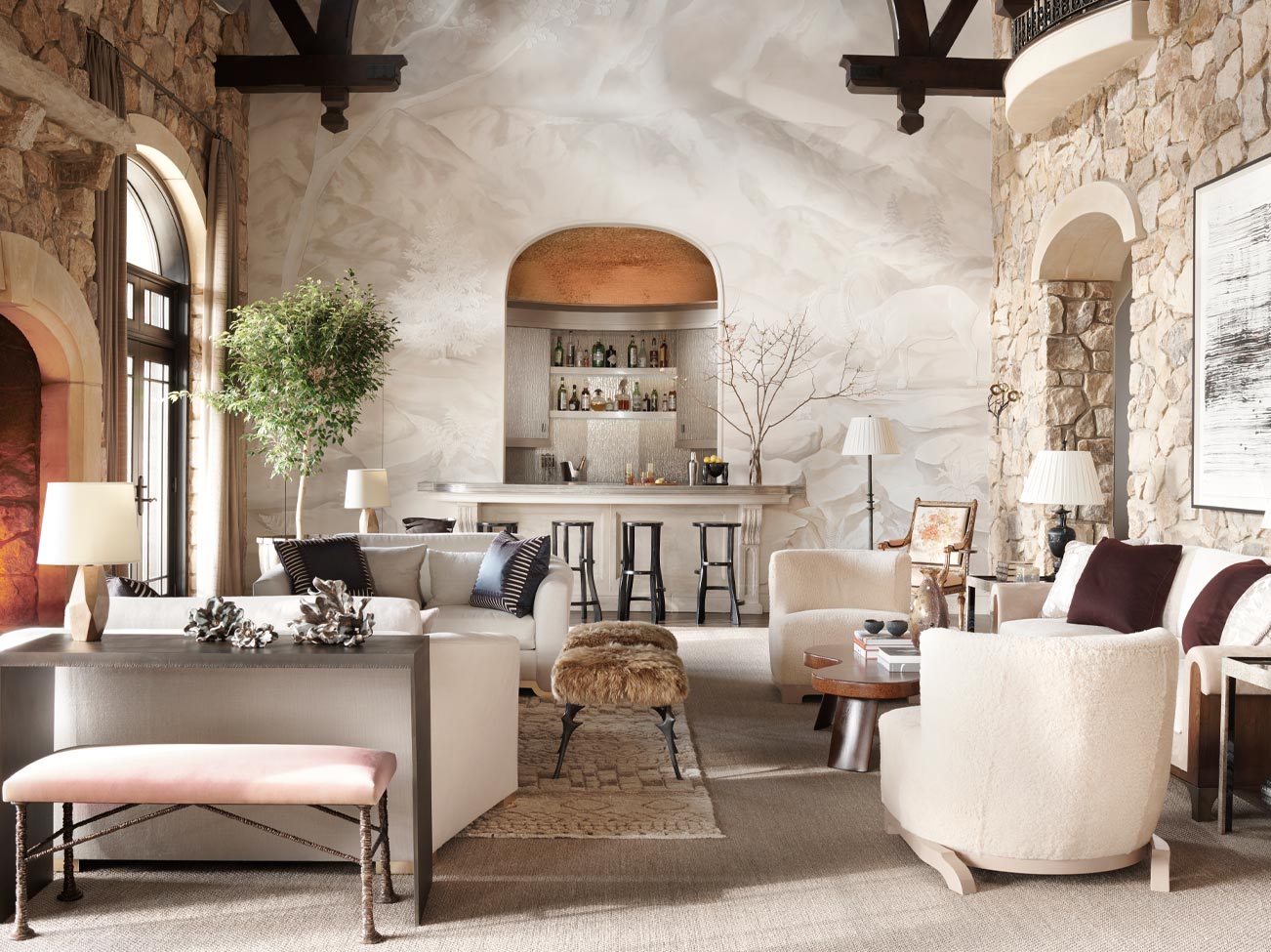 How critical is the role of colour, texture and pattern in your design?
Wesley: Colour, texture and pattern must be in every room, with levels of each varying by client.

People have different comfort levels with colour. If you have a neutral project, you have to amp up the texture or bring up the pattern in subtle ways. If you have a very colourful project, then you can get away with less texture because you're making up for it somewhere else. That is where the expertise for finding balance comes in.
What is your go-to advice on choosing colour?
Wesley: In terms of paint colours, I always pick those last, because there are a million paint colours in the world, but there may only be one rug that you love. Colour choices are informed by the client, understanding what their comfort level or desire for colour is.

I love to look at a client's wardrobe. In New York, almost everyone is wearing black, but a look at their wardrobe shows how daring they are and what they're comfortable with presenting to the world. Once I know their comfort zone, I'll usually still push the envelope.

I find rich colours that serve as a neutral. One of my favourite colours is Benjamin Moore's Dark Burgundy 2075-10 because it's the perfect neutral jewel tone. You can put it anywhere. It goes with anything, from hot pink to beige.
How do you consider paint in your design process?
Wesley: Paint to me is the icing on the cake. The cake can be delicious, but it has to have the perfect icing, right? You can spend a million hours designing the perfect trim detail or the perfect door, or the perfect piece of furniture, but if the paint colour isn't right and the paint job isn't right, then it's for nothing. You can change your whole room; you can change your whole life with a new paint colour.

Paint is the most impactful thing you can do, and it's the way to really pull everything together at the end.
How involved do you get when the contractor is applying the paint?
Wesley: Paint application is everything. They must prep it perfectly. It's all about sanding between coats; they've got to sand between applications of each coat. So, with every coat they lightly sand, coat, sand, then the final coat. It's important to get multiple layers because that provides depth. And the darker the colour, the more coats you'll need to make it perfect. If that's off, it's the first thing you notice, especially if it has any sheen at all, if there's any imperfections in the substrate, you're done.

The key to a good paint job is layers, you can't do it in one or two coats, you can't do it without sanding.
What role does technology play in your designs?
Wesley: Many people see technology as invasive; other people see it as a convenience. I try to get clients to be comfortable with some level of technology, for instance, a lighting system. Nowadays we have so many different types of lighting in our homes, it requires different circuitry. If you were to just have regular switches, you'd have 10 switches at your front door.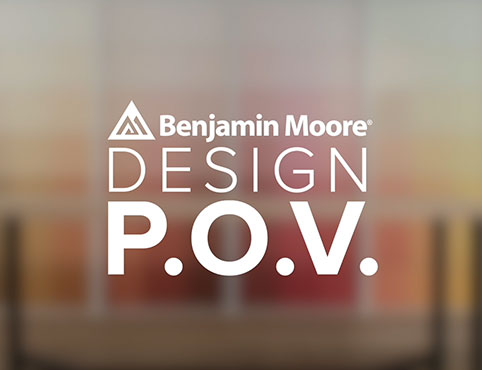 Design P.O.V.
See video interviews, get advice, and find inspiration from leaders in interior design.
LEARN MORE
Order Paint Colour Sheets
Streamline and simplify paint specification with the help of Benjamin Moore Paint Colour Sheets.
LEARN MORE