When you want to wake up a tired bedroom scheme, a fresh coat of paint can put everything in a new light.
Wrap your bedroom in a luxurious coat of paint to give it—and you—a fresh perspective. To truly make your bedroom a place of your dreams, select colours that express your personal style. Benjamin Moore Natura® paints offer a vast range of colour choices. Plus, you can rest easy knowing that this line is CERTIFIED asthma & allergy friendly™.*
Find the Perfect colour for Your Bedroom
It's where you sleep, so rest easy with a colour combination you'll love waking up to.
Find Your Colour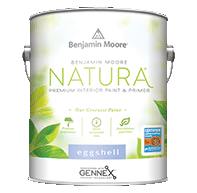 Benjamin Moore Natura™ Interior Paint
What better place than a bedroom or nursery to use a paint that is also CERTIFIED asthma & allergy friendly™.
The CERTIFIED ASTHMA & ALLERGY FRIENDLY Mark is a Registered Certification Mark of the ASTHMA CANADA and ALLERGY STANDARDS LTD.
Learn More