Designing a Powder Room
Ellie Cullman & Lee Cavanaugh Discuss Beautifying Small Bathrooms
Read What Ellie Cullman and Lee Cavanaugh Have to Say:
New York-based interior design firm Cullman & Kravis principal Ellie Cullman joins partner Lee Cavanaugh from Cullman's apartment to discuss designing powder rooms.

Both Cullman and Cavanaugh believe that the powder room is very important to a home. They believe you should treat it as a real jewel box. "It's really a public room that your guests are using if they're coming to visit, or you're hosting a dinner party. It affords a great opportunity to exhibit special details that are selected just for this space ."

For Cullman's own powder room she chose inlaid brass details in the marble floor, hand stenciled the walls, and gold leafed the ceiling. "Powder rooms, for our projects, are rooms where you want to pull out all the stops and install that special wall covering, adapt an old furniture cabinet or tables into a custom-made vanity, or custom design a bespoke vanity just to fit the space. For mine, I lacquered the cabinet and had an onyx top crafted, with an ogee edge because you would never do a straight edge in a powder room."

Cavanaugh adds that they had a custom metal grill made for the cabinet on the front, with shirred fabric behind it and accented with special hardware. "You want to pay attention to every detail because after all, it's a small space. We also love to have vanities in our powder rooms because they provide the perfect space to hide extra soap or toilet paper, or extra amenities. Our preference is not to use pedestal sinks."

"And another design element to consider with the powder room is as a place to display your special interests," says Cullman. "For example, I spent two years in Japan. I worked at Japan House Gallery before I started my interior design business. And I love, love, love Asian art. In this powder room, I have a series of watercolors from Japan that came originally from a Booker scroll."

The powder room is an excellent place to play with darker, more saturated colors because the space is so small, the color doesn't become overpowering. It's just a moment where you're not spending a lot of time, but you experience a different space. "With the marble floor, in my powder room, we used a linear pattern in the stone and cut it in a certain way," says Cullman. "So it formed a mitered square design. Even little details, if you're using one material, you can do different things and articulate it in such a way that it becomes its own event."

Lastly, Cavanaugh touches upon using layered lighting in a powder room. "We carry our lighting plan through each room in each space. And even as tiny as a powder room can be, you want to have the center highlighted with either a ceiling chandelier or a pendant, maybe an accent down light depending on how big the power room is, and sconces, because you want to illuminate your face."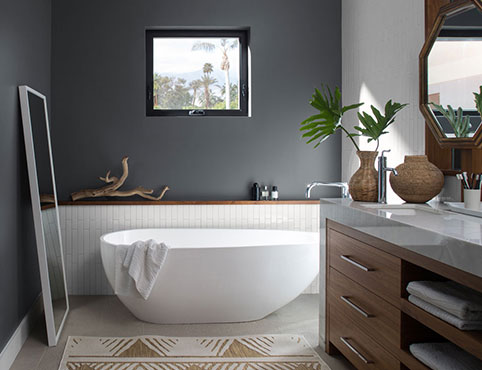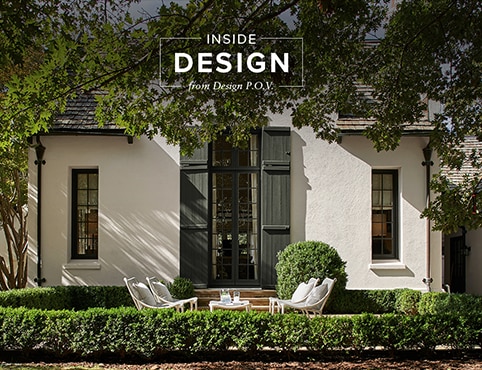 Inside Design
Explore distinct design topics from the interior designers featured on this page.
SEE VIDEO SERIES