The Art and Ritual of Dining Rooms
Dining In Gets an Upgrade with D'Aquino Monaco
Read What Carl D'Aquino and Francine Monaco Have to Say:
Carl D'Aquino and business partner Francine Monaco, from award-wining design firm D'Aquino Monaco discuss the art and ritual of dining from D'Aquino's country house in upstate New York.

"I think there's no greater honor in life than being invited to someone's home for dinner, lunch or breakfast," shares Monaco, opening up the conversation around dining from his own dining room.

"The nature of the way you display the plates on the walls, the wonderful table that graces the center of the room, the fantastic chandelier, it all creates a fantastic, wonderful, celebrated space to dine in. But it's used in your life many different ways."

"To try and get more than one function out of a space, I think is ideal," he explains. "It's taking into consideration what will be happening in this room through the years."

"Also, one must note that there are not just dining rooms, there are dining spaces, there's breakfast nooks, there's kitchen counters, there's islands. There's so many ways one can participate in the ritual of eating."

In fact, as he was setting up for supper that evening, the designer thought it would be great fun to have an elegant supper on a linoleum table that he sourced from the Hudson River town of Hudson a number of years ago.
Redefining Dining Spaces
The conversation continues along a gravel path to a building that was a working barn early in the property's history.

"The barn is American Chestnut. It's all hand-hewn. It's a wonderful, wonderful place. We took out the ceiling and we have these really beautiful chandeliers. Doesn't every barn crave good chandelier's for their horses?" D'Aquino jokes. "We whitewashed the entire interior of the barn just to add some brightness and light." The result is sophisticated country, elegant enough for any brunch, soiree or celebration, while bringing out all the fun possibilities of dining in a barn."

"What we really want to encourage," added Monaco, "Is that people take the time, pause, enjoy the moment of having breakfast, having coffee and using the things that are a part of your life. Use that set of china that was left by your grandmother; use these things that are a part of your life, that are part of your personal history and don't just sequester them away for a precious moment. We try to create places and spaces that allow people to see opportunities in how they use them and not necessarily feel defined by them."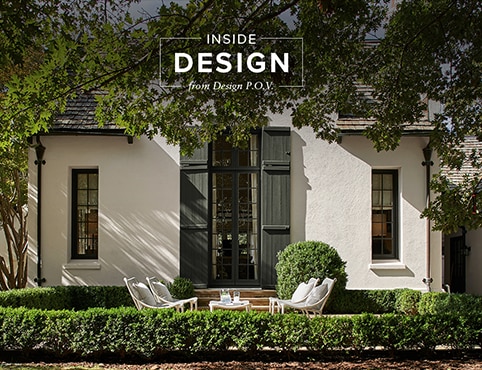 Inside Design
Explore distinct design topics from the interior designers featured on this page.
SEE VIDEO SERIES