Delivering Bespoke Design
A Conversation with Kristine Paige
Read What Kristine Paige Has to Say:
Interior Designer Kristine Paige discusses the role of customization and creating bespoke elements for her clients from her studio in West Hollywood, California.

Paige shares that every client who hires an interior designer wants to know that they're getting something special, something you can't just buy off the floor of a showroom. How does someone accomplish that nowadays, since so much is out there that clients can find on their own?

"I love doing things bespoke," notes Paige. "We search out varying makers and artisans all over the country or even in different countries who craft and create items that are special and unique and interesting and would enhance our design projects. One such company that I love to use is Porter Teleo in Missouri, they do hand-dyed papers and hand dyed fabrics." I wanted to bring this up because their work is a great example of how just changing color a tiny bit, just a few shades can dramatically change how a bespoke item comes across."

Paige shares that she sent the manufacturer her client's favorite burgundy purse and asked them to custom color match it for a wall covering. "While the initial strike off was way too dark, and the client said, 'oh my God, it's black and the whole thing isn't going to work,' I advised that it would be beautiful. I sent them a paint chip (which I should have done at the onset), because when you work off a paint chip, not only are you going to get the actual Benjamin Moore color, and Benjamin Moore is the paint they use at this wallpaper company, but you can then use that color on your moldings, on your ceiling and just change out the sheen level.

"So in this project, for instance, we were doing the moldings in a semi-gloss and the ceiling in a higher sheen level. And so, everything will absolutely sparkle. We submitted two different chips – Benjamin Moore's Chambourd from the Affinity® color collection, which has a little more purple tone, as well as Dark Walnut, which is a lot more of a rusty brown. And the ultimate choice was the Affinity® Chambord."

Paige also discusses fabrics and how she customizes them. For one project, she bought 10 vintage dining chairs, "which were so terrific, but they were in terrible shape," says Paige. "So I had them upholstered in a wonderful ivory leather." She shows a small swatch of the ivory leather and shares that the client wanted to color match the paint color. Paige started with one Benjamin Moore color but initially it was not ivory enough, even though the match itself was right. "It didn't read right in the room." She tried two other colors–Benjamin Moore's Natural Wicker and Benjamin Moore's Soft Chamois. Even though it looked a lot whiter and a lot brighter, the second color had enough of a sand-like ivory undertone that it worked with the existing leather, while making the gray really pop.

Paige says she "highly recommends doing bespoke items for any project. It really makes your clients appreciate the act of hiring an interior designer. It really makes them feel well taken care of and that their project is going to be unique and unlike anything that they've seen."
Creating Custom Interior Paint Colors
As for custom paint colors, Paige works directly with Benjamin Moore independent retailers to manipulate the concentration of color in the selected Benjamin Moore paint color. "I may want a particular Benjamin Moore color, but I want it 75% brighter. So putting only 25% of the pigmentation or say 50% and I get the exact tonal quality I want. I also bring in an item–fabric, carpet sample, stone or tile, or fashion accessory–and have it color matched."

Paige 's final recommendation? "Keep the paint cans as the can has the formula on it. We take a photo of that can and we put that in our computer records and then that formula becomes part of our paint schedule. It definitely is not something where the can gets thrown away and then it's a disaster. We definitely keep a record of those formulas."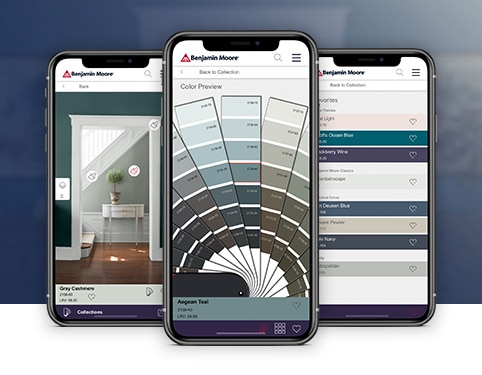 Benjamin Moore Color Portfolio® app
Apply paint color to photos of your space, access fan decks, match favorite hues to Benjamin Moore colors, and more.
LEARN MORE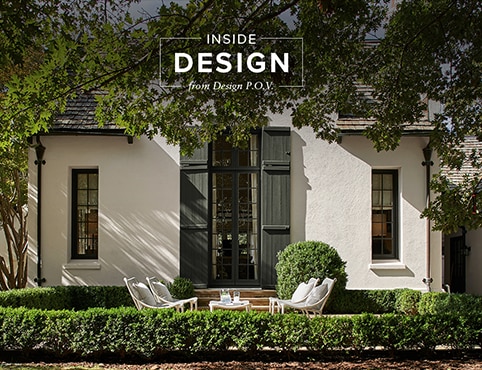 Inside Design
Explore distinct design topics from the interior designers featured on this page.
SEE VIDEO SERIES