Modern Interior Design and Smart Home Devices
Mariem Horchani on Planning a Successful Smart Home Design.
Read What Mariem Horchani Has to Say:
Mariem Horchani, principal of MHM Interiors based in New York, shares her passion for smart home technology.

Horchani, joined by her go-to smart home consultant Shane O'Sullivan of Electronic Arcitekture, discusses merging smart home technology and interior design. She cites the Savant Experience Center in New York City as a place she plans out her 'smart home' designs.

"One of my favorite aspects of design is identifying the need for, and planning of, the integration of smart home technology," says Horchani. "First thing to cover: 'what is smart home technology?' And for that, I'm having my trusted expert and smart home advisor, Shane O'Sullivan, share some details."

"I guess the definition of smart home technology is the ability to control certain features inside the home," notes O'Sullivan. "Such as the ability to turn on your lights, operate your shades, operate your drapery, and control the climate inside the residence."

"And I'm finding as an interior designer," shares Horchani. "That home technology is now an integral part of almost every single one of my projects–it's what my clients want. It is something that we like to address early in the process, and for me, that's where Shane's expertise in smart home technologies comes in."
How Smart Technologies Effect Interior Design
According to O'Sullivan, smart home technology design should be a forethought rather than an afterthought. "And that's what we're seeing, especially in our industry over the last decade," says O'Sullivan. "Once smart technology is part of the schematic design, we have a role in determining what wires need to 'disappear,' the appropriate size of TVs, speaker placement for all acoustic needs. Then we assist with all aspects of the technology specification and design, even determining the metal selections for keypad aesthetics and tech toys."

"When we sit down and we go through our drawings and everything gets wired correctly, we can recommend options such as custom touchscreens which provide full control of the entire house." By way of an example, O'Sullivan points to a bedroom touchscreen where selections include music, cable TV, Apple TV, lighting and window shade controls. "A fun part is when you take an entire scene, incorporating all of those operational commands, and everything is controlled with a one button press. It changes the environment of the whole space."

"You could say that it's really the melding of design and technology, and that's a really big part of what the smart home is about," Horchani notes. "It's not just the functionality or the convenience, but it's also the fact that it's so integral and integrated with the actual design we, as designers, create for each individual client."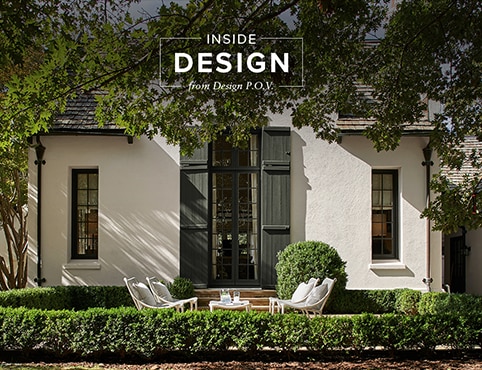 Inside Design
Explore distinct design topics from the interior designers featured on this page.
SEE VIDEO SERIES