How Smart Technology is Reshaping Modern Interior Design
Explore the Intersection of Technology and Design with Mariem Horchani.
Read What Mariem Horchani Has to Say:
Mariem Horchani, principal of MHM Interiors based in New York, discusses her design process when designing and integrating tech into a "smart home."

Horchani spends time at the Savant Experience Center in New York City to work on 'smart home' design. "Without a doubt, and despite that I am far from being a 'techy,' one of my favorite design topics is smart home technology."

Sitting beside her frequent collaborator and smart home consultant, Shane O'Sullivan of Electronic Arcitekture, Mariem explains their process. "We come up with our recommended smart home design plan, including all the electrical features and all the more technical aspects, that works for each of my clients."

O'Sullivan views their job as introducing the client to what is available, what their choices are, and how those selections fit into their budget and aesthetic preferences.

"From an interior design point of view, these decisions always impact the aesthetic choices that are made," notes Horchani. "Obviously, when you're talking about automated shading and automated lighting, these specifically offer up a whole variety of style and design choices."

"For example," cites O'Sullivan. "One might want an antique bronze theme throughout the home. Today, there are those options with certain keypad finishes to make sure that the interactive objects for home automation blend well with the finishes chosen throughout the residence."
How to Merge Design with Innovative Smart Technology
Horchani shares that first and foremost, "It's a collaboration with the client. It sometimes starts off with very preliminary questions. Do you like to view your TV in your living room? Is that something you want to have stand out? Or is that something you prefer to be concealed?"

Horchani references an example of how the design plan addressed the needs of a client who wanted a TV in their bedroom–which featured curved walls. Architectural and technological accommodations were made to accomplish the installation seamlessly, giving the client exactly what they desired.

"Of the curved wall challenge, O'Sullivan adds, "Was to take the door and essentially turn it into a rear projection screen. There are multiple companies who specialize in making things 'disappear.' The world of design has influenced the world of technology across the board."

"Often a client will ask me 'am I going to buy all this wonderful home automation and have it become obsolete in five years?'" says Horchani. "Once the inherent design is there and everything is wired properly, you can make whatever future upgrades are necessary or that you may want. You can add as you like."

"Exactly," says O'Sullivan. "The functionality will always remain. Once you get the design and technology aligned, and communicate with the client throughout, the client will always know exactly what they're getting, and you'll deliver a successful, fully integrated design project."

"Simply put," offers Horchani. "Guide the client so the design and technology is optimized for them, delivering what they want. That's our goal."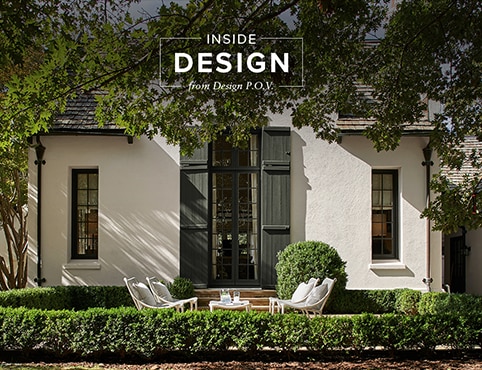 Inside Design
Explore distinct design topics from the interior designers featured on this page.
SEE VIDEO SERIES