How does Architecture and Design Intertwine?
Discover how Meg Joannides designs interiors with architecture in mind.
Read What Meg Joannides Has to Say:
Join Meg Joannides, principal of L.A.-based interior design firm MLK Studio, during a visit to the Thomas Lavin Showroom in the Liaigre Furniture Gallery at the Pacific Design Center. With over two decades practicing interior design, Joannides acquired key insights into the marriage of interior design and architecture.

"Quite simply, the architecture really drives the interior design," says Joannides. "Whether we are working side-by-side with an architect at the onset of a project, or on a residence that has already been built, our first task is to study the architecture and to come up with an interior philosophy that really compliments the architecture. Interiors are really two phases. One is the interior architecture phase and one is the furniture phase."

"Many times we're specifying interior materials, interior details, such as baseboards, moldings, interior door styles, millwork," shares Joannides. "All of these items contribute to the canvas on which we will eventually lay out our furniture plan. Our first and foremost goal is to have a seamless collaboration between the architect and the interior designer, so the you don't see where one's work starts and the other stops."
Talking Inspiration from Architecture for a Cohesive Design
To illustrate how both architecture and interior design intersect, Joannides points to an expansive beach house in California, right on the coast, which she feels is a perfect example of indoor and outdoor living.

"We chose a limestone floor, which feels very beachy, and is light both visually and to the touch. It doesn't get too hot. It works well for the outside. And it works equally as well for the inside," says Joannides. "It works for bathrooms. It works for kitchens. We selected this one material to carry throughout the entire house, and it effortlessly goes hand in hand with the architectural style."

To further emphasize that interior design choices mirror the architecture, Joannides shares how the shape of the furniture she specified for this project suits the overarching architecture. Calling out an open space, a room with no walls, "We used the furniture to create the parameters of a room, acting, in effect, as a room divider."

"I feel like the most successful projects have a very cohesive team. It's not just the interior designer and the architect, but it includes the landscape designer, the lighting designer, all of us working together, understanding what each of the other consultants are doing. That is the interaction which creates the most successful projects in the end. The most important concept to keep in mind is that you want your interiors to respect the architecture and to harmonize with the architecture. In a nutshell, that's what I would say the goal is for every project."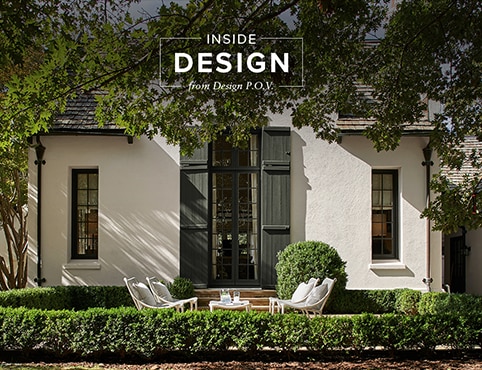 Inside Design
Explore distinct design topics from the interior designers featured on this page.
SEE VIDEO SERIES