Creating a Comfortably Elegant Living Room
Timothy Corrigan Discusses Stress-Free Style
Read What Timothy Corrigan Has to Say:
Celebrated Los Angeles-based interior designer Timothy Corrigan shares what it means to breathe elegant comfort into every home.

Corrigan explains the three aspects of comfort and how they play together: Psychological comfort, physical comfort and practical comfort.

"We designed this living room for a family with three kids and dogs," notes Corrigan from the gorgeous space he designed. Comfort was key given its everyday use. Practical comfort was the focus, given its everyday use.

"You have to start with the practical aspect," notes Corrigan, "This particular room was designed in such a way that you could have two different seating areas where people could be in small groups or talk together in one bigger group."

Psychological comfort is another important element in the design process. "In this space, the matching lights on each side of the sofa are balanced with a pair of chairs, resulting in a room that feels equally weighted," says Corrigan. He goes on to cite research that shows that a symmetrical room actually allows one to feel more comfortable.

"Then there's the physical aspect," he adds. In this space, relaxing comes naturally, given the big comfy chairs that beckon you to sit down and the overstuffed sofa. It's a space where you can easily "lean back and feel comfortable," says Corrigan.
Designing a Living Room for Comfort and Practicality
The final design goal for the living room? Practical comfort.

From a marine varnished table that won't leave rings, to stain resistant fabrics, sourcing accessories that balance style with sensibility is key.

For the furniture, Corrigan used his own upholstery line, a fabric playfully dubbed Go-For-Baroque, from the Perennials Fabric collection.

"This high-performance fabric is so incredible," noted Corrigan, "you can pour red wine on it, you could pour coffee, and not worry about stains. The family's dog actually spends most of his time right on that piece of furniture."

"My goal was to make this room feel bright and sunshiny, so we used Windham Cream HC-6," a paint color from the Benjamin Moore Historical Color Collection, citing the hue as a "great backdrop for the art and furniture."

"The result is an elegant room that the family really lives in and loves."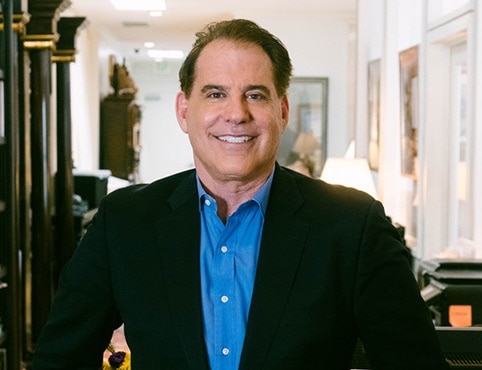 Timothy Corrigan Inc.
"It's about getting people to feel a little more courageous to use color in their homes."
GET INSPIRED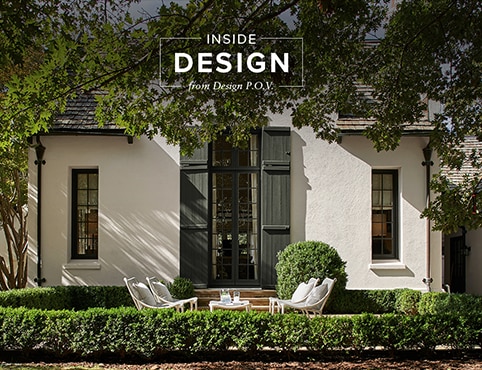 Inside Design
Explore distinct design topics from the interior designers featured on this page.
SEE VIDEO SERIES