Coordinating Cabinets, Countertops, Backsplash & Floors
Tracy Morris Talks Kitchens & Bathrooms
Read What Tracy Morris Has to Say:
Coordinating colors throughout a residence can be a challenge. Washington, D.C.-based designer Tracy Morris, of Tracy Morris Design, from her own residence, discusses one of the key design components she and her team tackle: selecting just the right colors, and countertop, for either kitchen or bathroom.

According to Morris, "this one should be a no-brainer. You always want to start with what do you want your cabinet color to be. A majority prefer saturated color on their cabinets. And that is a great thing to do. You can easily carry saturated color across the kitchen; alternatively, you can select the kitchen island or a piece of the perimeter, such as molding, as the surface to place that saturated color and allow a lighter color to bleed through. I always advise clients and other designers to make sure that whatever combination is chosen, it will still work for you in five years. If the color is too trendy or something you're really feeling only in 'the moment,' rethink your choice."

"Select something that is timeless, that will endure the test of time, particularly if selling the house is in the plan. Clean and simple color combinations are easiest to put on the market. Once the cabinet color is determined (I personally selected a deep navy island, and white perimeter cabinets), you have so many options for the solid surface." Morris recommends man-made materials for durability. "While I am a marble person, it has major drawbacks because it will stain if something is left on it—marring its look."

She cites the problem with mixing marble and a lemon, lime or acidic food; when it lands on the polished marble countertop, little tiny blotches will appear. "So if marble is desired, I tell our clients to choose a honed surface, which means it is not polished—it appears matte, no shine. If you have a honed surface, you don't see those splotch marks as much because it is not penetrating a polished surface. So if you love marble, go with a honed surface. A scenario might be using a honed marble countertop with a deep navy island. What color marble to choose? If you are using a saturated navy on your island, I would go with a lighter tone. That allows the navy to pop. I would select a Calcutta gold honed with a deep navy island, the reason being that Calcutta gold has a bit of brown that balances well with the navy island. If cooler tones are desired, and you are selecting a Carrera or other marble, you will need to balance the coolness with a little bit of that warmth."

For perimeters, Morris adds: "If the perimeter is white, then I would either do a dark countertop or continue the same color as the island. I'm a huge fan of continuity. If Calcutta gold is the island, I would do the same thing for the perimeter and it will pull the entire kitchen together."
What comes first when designing a kitchen?
Morris counsels that when selecting all the surfaces for either kitchen or bathroom, there are certain processes that she follows with her client. With regard to a kitchen, the starting point is always the cabinetry. The question to ask—what do we want those cabinets to look like? The color, the style, everything about how the kitchen looks, begins with the cabinetry tones. After the choice is made, then you move on to the countertop. She raises the question around durability. Will the delicacy of marble and its potential staining be an issue? Or is a more durable surface such as Caesarstone or Cambria the better choice? Once determined, then the color is selected that coordinates best with the selected cabinetry.

With counters and cabinetry, there also are backsplashes. According to Morris, in many of today's newer housing, full height backsplashes are a popular trend. It is created by taking the countertop and wrapping it up the back of the wall, making it the backsplash. As one solid contiguous surface, it projects a very clean appearance. Alternatively, for a more distinct, and perhaps more visually interesting look, a custom tile backsplash is a good choice. Tiles come in a limitless array of colors and patterns and can be coordinated with the cabinetry. Or it can be sleek and clean with something as simple as a white subway tile or another balancing neutral. "Whatever the direction, my process begins with cabinets, then countertops, then backsplash," notes Morris.
What comes first when designing a bathroom?
Morris shared that with bathrooms, "it's a bit of the opposite from kitchens."

"I always select the tile first because it is the personality of the bathroom. If a penny tile or a small round tile is the flooring, and it is in a deep mushroom tone or a taupe for example, then I work out the rest of the bathroom in a very different way. With a deep color on the floor, I will discuss cabinetry with the client and likely suggest a white cabinet that will best balance out the strength of the tone of the floor.

"And once the cabinetry is chosen, I work out the countertops. With countertops I prefer to go with a blended tone taken from the floor and the cabinetry. Typically, that is where the bathrooms come together. My preference is to select the floor first as the main color in that room, then cabinetry, then blend both together for the countertops."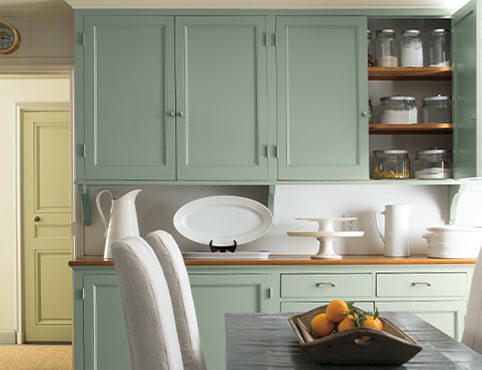 Kitchen Cabinets
Get inspired to paint your kitchen cabinets–and access our how-to video to make it easier!
GET INSPIRED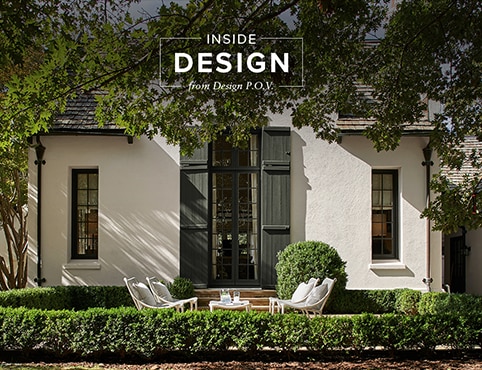 Inside Design
Explore distinct design topics from the interior designers featured on this page.
SEE VIDEO SERIES