Choosing the Perfect White Paint
Benefit from Tracy Morris' Expertise
Read What Tracy Morris Has to Say:
Tracy Morris, principal of Washington, D.C.-based Tracy Morris Design, knows whites and uses them to outstanding effect across all her design work. From the basics to sharing her faves, she imparts her insights across the vast spectrum of whites.

"Take warm whites," Morris counsels, "all that means is that you have a little bit of red in the base. That red comes out in versions of beige, and in pink. With those whites, I add warmth to the spaces I'm designing. If you want or need a warmer color, ensuring the space does not feel too cool, then I would add in that warmer white.

"With cool or cold whites, there is a lot of blue, and some gray, in their base. So basically you're punching up the white with a little bit of black. And you want to make sure it's the right level. If I want to have more of a gray toned surface or a cooler one, I begin with a cool white, with that addition of a bit more blue or gray."

The design-focused question that comes up most often, whether by design professional or homeowner is "how do I pick the right white?"

"Without doubt it's one of the most frequently asked questions of designers, builders and homeowners alike," noted Morris. "How do I pick the right white? What is the right white for this particular space? What does that mean?

"White paint can be super confusing as a result of there being so many options," counseled Morris. "Over my many years in the industry, white is one of my favorite colors to select as a result of its cleanliness and the ability to allow white to shape around forms. And I enjoy assisting with the process to determine exactly how to pick the right white.
Choosing White Ceiling Paint
"First let's start with ceilings. Ceilings tend to be the area in a room that can be somewhat overlooked. You can easily apply lots of color on a ceiling if you are trying to envelop an entire room. So if you want to punch up a room, don't be afraid to put color on the ceiling. But if that is the path, be confident on the plan for the walls. One option If you have color on the ceiling, is to take that same color and wrap it around the rest of the room—giving the room the visual effect of an enveloped jewel box. I select this type of technique for powder rooms, master closets, master bathrooms—really any area where you want to create a soft, collected space, providing a serene and quiet place. When the direction for the ceiling is not to be painted in a color or colors, of course a beautiful white is the way to go, which allows lots of light to enter the room, reflects off of that white ceiling and allows the entire room to glow."

The question continues to emerge, no matter the application, of "what white do I use?" Morris suggests Benjamin Moore's Decorator's White OC-149 for the ceilings, and explains it is a fantastic tone with just a little bit of warmth. She shares that for any ceiling under 30 feet, which tends to be a majority of residences, she selects Decorator's White because it has a little bit more warmth to pull the ceiling down. If dealing with a very high ceiling or working with an atrium, whether a large open foyer or extensive entryway, she suggests Benjamin Moore's Atrium White OC-145, as this white has a bit of pink in it which imparts an extra glow and an extra warmth, visually pulling down the ceiling so its height is not distracting.
Best White Paint for Trim
Morris also addresses which whites work best for trim. "So often, one is dealing with a newly constructed builder's (or spec) house. And these tend to have the brightest white trim and brightest white doors imaginable. To create a custom look, I add a little bit of tone to what I select for the trim white. I tend to have great success with Benjamin Moore's White Dove OC-17. It is my absolute favorite trim color out of the Benjamin Moore deck, as it has a lot of beige in the actual back tone, which allows you to get a beautiful custom finish that really looks white but doesn't feel builder grade.

"When you are working on your walls with a white, and if you have an incredible art collection, and you want to highlight those amazing pieces on your walls, I counsel to paint trim and walls, all the same color. The color I suggest for that application is Benjamin Moore's Ballet White OC-9. Again, this type of tonal appearance looks fantastic when you are trying to bring out beautiful colors and even neutral art. If you paint the crown molding and your baseboards and your walls all one color, your space feels enormous. And it allows your artwork and your beautiful furnishing to visually stand out. The trick is with the paint sheen. It is important to have a different sheen level if you are going tonal.

"On doors, crown molding and base color, I go with a semi-gloss sheen in Benjamin Moore paint allowing those features to come out. On walls, it is critical to use a paint that is scrubbable or wipeable, like a matte or any of the amazing Benjamin Moore products that allow you to wash your walls if they become marred or soiled – think kids and pets or food accidents.

"And, again, you have to consider the ceiling. For a beautiful tone on the ceiling, I select either a gloss or a flat – either will provide punch – and then I wrap down onto the walls. For everyday ease and creating a beautiful envelope around the entire room, paint it with Benjamin Moore's Decorator's White in a flat, come down and apply Benjamin Moore's Ballet White OC-9 on the walls in a matte; and use a semi-gloss trim on doors, and, for me, that's the perfect space.
When to use cool vs. warm white paint
Morris further shares more details around cool versus warm whites. "The reason it's so important to look at cool versus warm whites is that those choices will be informed by what else is throughout the house interior. What will work best with what's in those spaces? If there are warm toned floors, for example, a warm walnut, I would use a warmer white. If it contrasts too much with something that is very cool, it will not be visually connected, and the walls and trim will come off as super cold in comparison to the beautiful, warm permanent surfaces and fixtures, such as the existing flooring or cabinetry or built-ins.

"When to use a cool white? If there is a beautiful blue Tabriz or Kilim rug that a client owns and has been in their family for generations, in all likelihood I will use a little bit of a cooler white to complement those blue tones. If using a cooler white, I want to complement the pieces that are already in the house. The same calculation applies with marble on countertops. For example, if the marble is Calcutta Gold, I go with a little warmer white. If it's Carrera or Statuary each of which has a lot more gray tone, then I select a cooler white and really accentuate the permanent surfaces."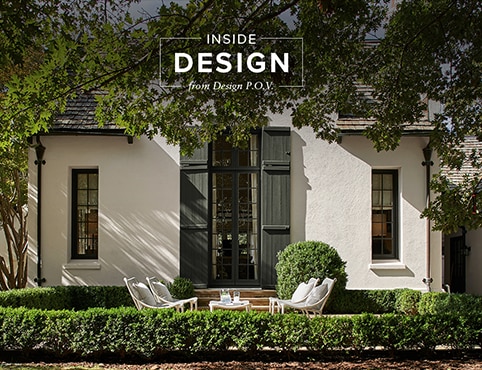 Inside Design
Explore distinct design topics from the interior designers featured on this page.
SEE VIDEO SERIES