Learn how to Create a "You-Nique" Style
Drake/Anderson Discuss the Power of Personality in Design
Read What Jamie Drake and Caleb Anderson Have to Say:
Jamie Drake and Caleb Anderson, co-principals at New York-based interior design firm Drake/Anderson, share what it takes to create a "YOU-nique" style.

"At Drake/Anderson, we're very focused on being unique in that we're constantly looking and searching and creating things that we haven't seen before that are unexpected and are exciting for our clients and for us," shares Anderson.

Drake adds "Love the way Caleb just said YOU-nique because now we've almost coined this new phrase and we put a little hyphen in between Y O U dash N I Q U E. YOU-nique.

"We're going to talk about YOU-nique interior design spaces. That's YOU-nique, meaning for you and about you and about developing something that really projects your personality, reflects who you are, your family, your family group, whatever that means, whatever form, color or shape that may take. It is totally about the power of personality, the power of your personal style. I call it the P P P, the triple P's. Personality Plus Pow."

Anderson adds that "when designing a YOU-nique space, it's important to embrace what you love."

"And you know that love can come from many things'" says Drake. "It's really about thinking about who you are. It could start by looking in your closet, scope out what colors you wear. It could be thinking about a collection you may have and pulling something from that, or a favorite piece of art."

Anderson weighs in that "a piece of art works well. For me, I love books. My apartment is filled with books. I actually have a library in my two bedroom New York apartment."

"And so it's really about telling your story and for Caleb to express his love of books, seeing the room surrounded by books really does tell you about what he's interested in," notes Drake. "You know, when you look in your closet, it might be that you look at what you don't have. For many people actually being asked the question of what colors do you like, they freeze. But if you ask them what they don't like, they usually can define that pretty easily. And color might not be all about color. It might be about family. People might be able to say, oh yeah, I love pastels. I like lighter tones. I like fresher tones. And I don't like deep, intense tones, which to them may read as too aggressive. Those are ways to think about how establishing your color preferences can come about."

"Oftentimes clients come to us and they're too focused on trends rather than their own personal style," shares Anderson.

Drake continues "And it's true. I think that it's really more important for a long-term effect that something that stays with you and you love forever is to really be true to your nature and who you are."

"Thinking about developing your You-nique style? A good place to start is to think about what gives you happy memories, whether it's family, whether it's mementos, heirlooms, collections of things that you've purchased over the years. I mean, I do think so much of what we find comfort in is triggered by memory. And that could be a memory from a vacation or a family member."

"As designers," Anderson says, "we love incorporating pieces that have a story. It could be a story about an antique chair that belonged to your grandmother that has special meaning to you or a gorgeous piece of art that you bought on your favorite vacation."

"But it's really about the story," Drake underscores. "And then you can relate the story to your friends and your guests about how you made these decisions. And it makes it very personal. For example, maybe one of your favorite memories is your grandmother's strawberry rhubarb pie. And that could be the beginning of a color story."

"One of the strengths I feel that we have as designers is our ability to understand and assess a client's personality by clues they may bring us. Whether it's visiting them in their own current home and then showing us things that are important to them or talking about their favorite hotels and restaurants or fashion designers, bringing magazine clippings, or showing us a Pinterest board. We're able to take those clues and create a design through our lens that reflects their personality," says Anderson.

"Occasionally you get a client who actually can articulate what they want," says Drake. "A few years ago, we finished a project for a client who put it so clearly by sharing, 'I've had Versace, now I want Cucinelli'. Seven words and it was absolutely crystal clear.

"When I think about YOU-nique spaces, I think about my own apartment and what's in it that talks about me. I think it's about the unusualness. I see design all day long. So I wanted something that was a little bit out of the ordinary or a lot out of the ordinary. Even my space planning with my kitchen's 17-foot long island that pushes your eye into the room at an unusual angle, sets the tone immediately upon entry. I have a chair from my grandmother. I have a bronze from my other grandmother and a piece of glass, things from my mother and father are there. So these are the familial memory triggers. And then I have beautiful pieces of art and sculpture that I bought at art fairs that I've visited around the world. These are the things that make me happy and confident and comfortable and give me that warm and fuzzy feeling."

Anderson shares that his apartment "is reflective of my many moods, I would say. I like proper rooms; each room is its own experience even though they're all connected in a sort of language of contemporary pieces, antique pieces, I love a mix. And some of my favorite colors. I have a yellow library, more of a citrine color, a dark blue bedroom. I like to sleep in a cave and I've really captured this sort of luxurious cave vibe. Or my very sexy, I would say, red dining room."

"So one of our jobs as designers," notes Drake, "is to interpret who our clients are, because at the end of the day, we don't keep the key to the front door, we give it over and we walk away. So we have to meet clients for a very brief period of time. And do what we're told as children is a bad thing, which is to judge a book by its cover. We have to be able to read all the chapters and all the words after three to four meetings. And of course it does become more involved over the course of time, but it's our job to interpret the personalities and make the designs and the homes that we come up with YOU-nique for someone else.

"So thinking about creating this segment for Benjamin Moore's INSIDE DESIGN we wrote down some key words and here they are: memory, history, passion, vacation, family, friends, travel, hobbies, collections, interests. These are the keywords that you should think about when you're trying to define your own personal statement–creating YOU-nique."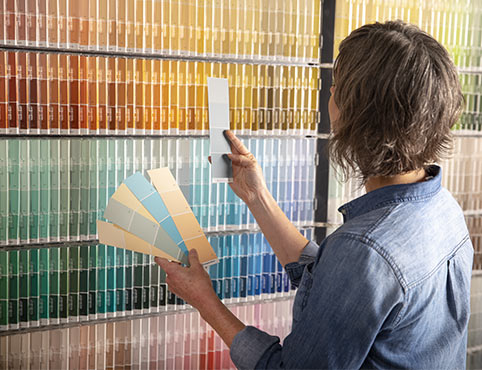 How to Choose Interior Paint Color
Learn from the experts on how to select colors you'll love.
Get Started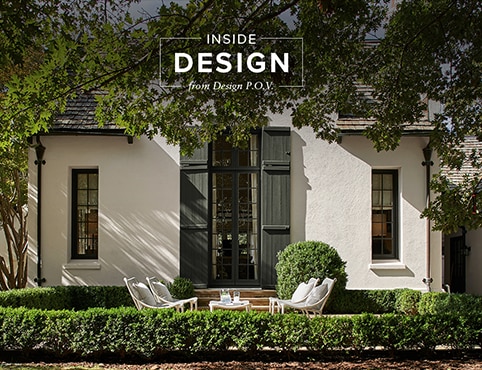 Inside Design
Explore distinct design topics from the interior designers featured on this page.
SEE VIDEO SERIES