Powder Rooms: Vanities, Mirrors, Lighting & More
Jay Jeffers Elevates Small Bathrooms
Read What Jay Jeffers Has to Say:
Interior designer Jay Jeffers discusses the powder room from his San Francisco design studio. "In my opinion, powder rooms should be the jewelry of the house. Think about when you're getting dressed at night, you're going out for a night on the town. You've put on a cute outfit, you take a look in the mirror when you're leaving and your assessment: I'm looking good. That's the way all powder rooms should feel all the time."

Jeffers starts with the floors–It's the one place where he can be a bit more neutral. "If the powder room is in an area where guests congregate, and there already are hardwood floors throughout the rest of the space, I would take that flooring into the powder room, and then have fun with the rest of room."

"The powder room should not be the workhorse bathroom, where you need lots of storage and huge amounts of light and a medicine cabinet, etc. And there are choices–a vanity can be a pedestal sink. It could be a stone, or one that's vintage, either attached to the wall or free standing. It can be fairly small, it certainly doesn't need to be a huge piece. It should be fun and interesting. I've worked with a wide range of different things for different clients. For one really small powder room in an apartment we used stone with a lot of movement and interest to it. We then angled the cut of the backsplash to add a little bit of interest with a little kick in its step."

For Jeffers, powder rooms are a place to take risks–starting with the walls. "Walls are like an outfit. It's that cute dress. It's that really nice suit. And that translates into say a wallpaper or a beautiful plaster finish. So many opportunities to have some fun and to take a risk when you're working with a powder room, because let's face it, you don't want your guests to linger. They're there to do business, check their makeup, and get out of the room."

A great place to breath a playful air into the powder room, Jeffers has fun with fixtures. "The great thing about a powder room is you're only buying one faucet, so no need to spend extra money for everything that goes into a full bath with a tub or shower. Have a little extra fun with powder room fixtures. Invest a little more money on them, do something with a fun finish, such as a pewter, or maybe a polished brass. Think of it like a little piece of jewelry, spend a little extra money, do something that's interesting and enjoyable to look at. That's the way to go with the powder room."

And when it comes time to select a mirror? "Make it interesting. Since there is no medicine cabinet, select an interesting shape. For one client, we created a mirror with the top shaped like a crown. So standing in front of this particular mirror makes you a Royal. So playful."

"And it doesn't have to be the perfect mirror. The glass could be a bronze glass which makes everyone look a bit tan. Or do something that's in a more antique or vintage glass. Again, something that has some interest to it. For my own home in the Napa Valley, the powder room has a convex mirror. So when you're looking at yourself in the mirror, it's almost like a fun mirror, but it allows a view of the entire room giving it a visually interesting perspective."

The final feature of the powder room? "Lighting is the chandelier earrings, no pun intended. Or the beautiful watch, or a pocket watch for a three-piece suit. But the powder room calls for having fun with selecting lighting. One pro tip: you don't really need a lot of light in a powder room. My preference is not to have any recessed cans in this room. If you need it in the toilet area maybe one little can above that fixture, but really focus the lighting on sconces or pendants or a beautiful chandelier. And this becomes the jewelry. It should project fun."

"I've done a mirror and two sconces on one side, just to kind of change it up a little bit. Or do the same thing while a pendant or hand two pendants on either side of the mirror. That way it's fun, and interesting. You want your guests to be delighted. If you have a powder room, you want it to put a smile on your guests' faces when they use it, you want it to convey some excitement. You might event anticipate their talking about what a great visual experience they had in the powder room."

Jeffers believes powder rooms provide a unique design opportunity, due to their small space. "If there's some design element either I or my client may have wanted to use for a long time, this powder room presents the opportunity to use it. And it doesn't take up a large footprint. So try it."

"One thing I'm always sharing is to remember the ceiling. It's the worst thing, to me, if I go into a room that is well appointed and beautifully done and amazing. And then I look up and I see a white ceiling. That just doesn't work unless the walls are white too, then it's okay. It's important to pay attention to the ceiling, take the wallpaper up onto the ceiling as well. Lacquer it in a beautiful, shiny Hermes orange, or something like that. Really have fun and take some risk."

"Another key feature that is sometimes overlooked–put a table in the space, if there's room. Simply because it's great to have a little spot for your guests to put their handbag on so they don't have to either set it on the floor, or hold onto it if there is no room on the vanity or counter surface."

"One thing that is easily forgotten: think about the trash. Be strategic about the refuse receptacle, because there can be a beautifully designed vanity and if there is a metal trash container next to it, it really takes away from the overall impact of a well-designed powder room. If there's an opportunity, if you're working with new construction or a full-throated renovation, maybe include a little built-in where the refuse container is hidden. Or if the vanity was created from stone and there is some leftover stone, make a custom receptacle. So this necessity becomes part of the room instead of an afterthought."

Another question that Jeffers fields frequently: paper or linen? "I like both. I think if you're having a special occasion, linen towels are really quite beautiful. I actually use them all the time in my house in Napa. We just wash them, and we don't iron them or anything. So they've got that sort of wrinkly look, but it's a casual house. If you have a little bit more formal house, you need to iron them. But there are some beautiful paper towels that can be monogrammed and put in a beautiful dish. So if hosting a party, people might feel a little bit more comfortable with paper as well, just using it once and tossing it."

Jeffers view of a true powder room is simple. "To me a true powder room is small. It's a toilet, it's a vanity, it's a beautiful mirror. And that's really it. There's definitely a trend, especially in new construction these days, to build full baths everywhere. And sometimes the demand and the need is there."

According to Jeffers, one client needed a full bath for guests that stay for longer months at a time, since their family lived overseas. For this, Jeffers designed an opaque metal door with ribbed glass going over the shower enclosure. Although there's a shower, Jeffers designed the rest of the bathroom as a traditional powder room. "While that's one way to design the full bath to be viewed as a powder room, a beautiful, elegant shower curtain can also be used to close everything off. It's really just decoration in the room. But overall, I think nothing is more special than a true powder room. It's luxurious and guests will love it. Remember, it's a fun design opportunity. Get that powder room dressed up, looking nice and ready to go out on the town."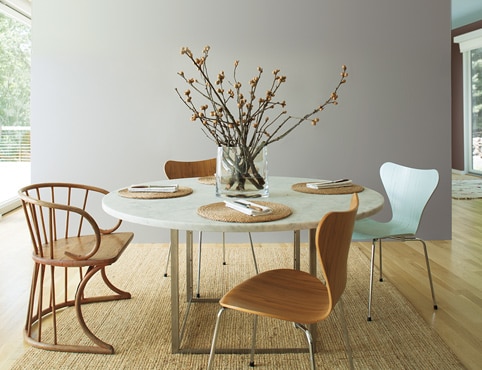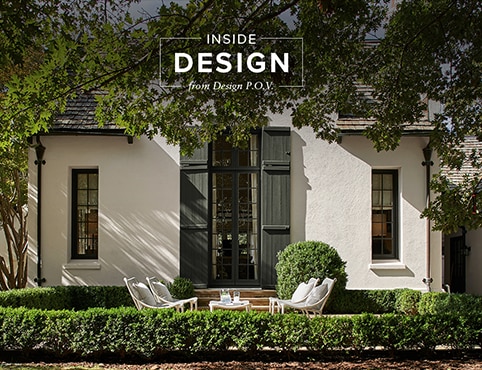 Inside Design
Explore distinct design topics from the interior designers featured on this page.
SEE VIDEO SERIES