How to Plan a Room Layout
Meg Joannides discusses the importance of a furniture plan.
Read What Meg Joannides Has to Say:
Meg Joannides, principal of L.A.-based interior design firm MLK Studio, discusses her approach to creating a successful furniture plan during a visit to the Thomas Lavin Showroom in the Liaigre Furniture Gallery at the Pacific Design Center.

"For me, the groundwork to create a successful furniture layout begins with sketches," notes Joannides. "Call me old school, but I prefer to begin with a piece of tracing paper and sketch over the architectural plans, laying out different ideas around the shapes of each piece of furniture and how they will feel inside the walls of a particular home. Once we're happy with the sketches, we then draft in AutoCAD, which gives us the ability to precisely lay out, to the last eighth of an inch, where everything goes."

"What's really important is to take into consideration how the spaces flow. With that analysis comes the key question: Is the plan an open plan, or are you dealing with a series of more delineated or separate rooms?"

Joannides shares that she has excelled at geometry since childhood. "For me, looking at how these various shapes fit together from the top down is a very specific gift, or perhaps it is a learned and practiced skilled, that I possess. And it takes times and specific attention to detail. We carefully and methodically move all the pieces around, measure, reevaluate scale and rearrange until I feel the layout provides the most harmonious balance of shapes and sizes within each room."
How to Arrange Furniture at Home: Statement Pieces & Focal Points
Furniture layouts are an important aspect of design, as they can help hide a problem spot or highlight an iconic piece of furniture as a focal point. "We commissioned a custom made Liaigre-designed bookcase that was 16' long and was meant to dominate the room," shares Joannides. "It was designed to be the room's focal point and it drove the decision-making for all of the other pieces we selected for that space."

"A lot of people think interior design is easy, and it's just about putting furniture in a room. That you simply can call up your local furniture store and order something without a plan. But that's not it. Designers labor over how each piece fits together, how collectively they interact and flow, and specifics like what are the clearances between each piece of furniture, and whether the leg of a sofa is going to bother an individual when they turn a corner.

"Of course, we want to be proud of every project and we want to be able to show it, publish it, feature it on our websites, but the ultimate goal is to create a comfortable, beautiful home for the people that live there."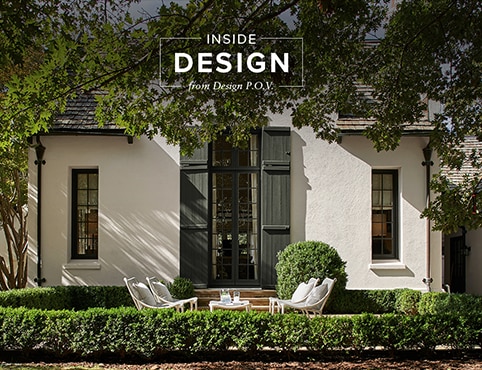 Inside Design
Explore distinct design topics from the interior designers featured on this page.
SEE VIDEO SERIES