HOW TO GET A PAINTING CONTRACTOR LICENSE
Having a painter's license helps to validate your contractor services and improves your potential for winning jobs and earning more money.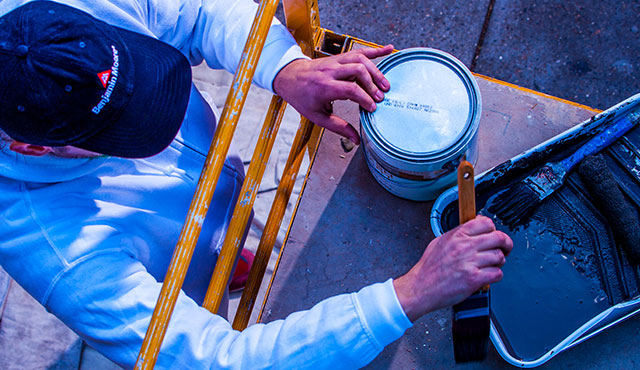 If you've been thinking about obtaining a painting contractor license, here are some basics to get you started.
Q: "Are Painters Required to be Licensed?"
A: Not every state or county requires you to have a painter's license. Some that do may also require you to register your services. A state-by-state list will tell you what is required along with any fees. In addition to state requirements, the painting job itself may require a license—specifically larger projects that will bill over $2,500, for example.
Q: "How do I Become a Licensed Painter?"
A: Criteria to qualify for a license depend on the locality in which you operate. Other considerations may include having no criminal background and the legal right to work in the country. You may have to prove your work experience by sharing photography or video of completed projects, supply work references and financial statements, or be fingerprinted. You may also need to take a state exam that covers such areas as evaluating job sites, choosing paint and stain colors, and removing wallpaper.
Q: "What Does it Cost to Be a Licensed Painter?"
A: The fees vary widely from state to state. Processing fees start at $50 and may go as high as $150, depending on what is covered (e.g., registration). License fees may go up to $250 and can be valid for multiple years. State exam fees are typically around $50.
Q: "What About Insurance?"

A: An insurance professional can tell you about your state or local insurance requirements and costs. However, the type of coverage that may be required depends on the state, the size of the painting project or the location of the job. The most common types of insurance that you might need are:



Business/General Liability - This policy protects you against claims of third-party bodily injury and property damage.


Workers Compensation - This is required in most states if you grow your painting business to include employees or 1099 workers that some states might classify as employees.





On Track for Success as a Painter

Obtaining a painter's license validates your services and your professionalism, and sets you apart from unlicensed painters. A small but wise investment in your business, a license is yet another notch in your professional tool belt.

For more information, contact a Benjamin Moore Contractor Representative or visit a local Benjamin Moore retailer. You can also find more professional advice in our Build Your Business section, developed specifically for painting contractors.

DISCLAIMER
The information presented above does not, and is not intended to, constitute legal, financial or insurance advice. This guidance is for general informational purposes only. Readers should consult their own legal, financial and insurance advisers in connection with their business.
Looking for more business info?
Get the tools and advice you need to succeed as a business owner in the painting industry today.
VIEW CATEGORIES