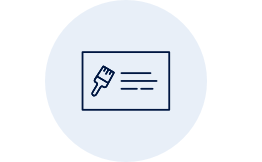 First step:

When starting a new painting company, you will need to create a name for your business. More than just something catchy, your business name should be memorable enough to differentiate yourself from the competition in your local market. Consider:
What makes you stand out?
What will make people remember you?
What will make people spread the word about your good reputation?
Explaining why your business exists, which will also fuel your business plan, will inform the ideas behind choosing a company name.

Level up:

Coming up with a name should also include designing a logo to be used on everything from business cards and letterhead to yard signs, vans and more. See our guide to naming your painting business for more on these crucial steps.